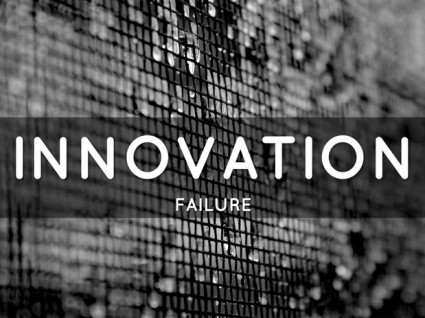 Innovation happens not only through success cycles, but also failure cycles that are like pit stops on the road to organizational transformation.  "Fail, learn, adapt" is the mantra successful innovation organizations follow.  Failures aren't setbacks, they are pushes forward bringing with it critical information and understanding uncovered through the process.  The mantra of "tweak, fail and revert," however, is the kiss of death for innovation and one that I know all too well.
A few years ago, hired as the part of a senior team for a new division, the challenge seemed clear – it wasn't small shifts that they were after, but total transformation.  I was brought in to lead the business transformation from the people perspective and had great partners in crime on the leadership team with me; they were experienced, driven, genuine leaders.  In retrospect, the fact that our team was hired, when the entire existing leadership team was all "reassigned," should have been a sign we were in for some rough waters.  In fact, within 12 months, the entire leadership team had left the company.  What happened?
Millions were invested with leading consulting firms and the best thinking of internal talent was leveraged in the early design phase well before I came on board.  The CEO was 100% behind the proposed changes and committed to taking an innovation path to remain on top of a competitive industry.  They also took the smart approach of large-scale pilots before large-scale implementation organization wide.
Fantastic planning wasn't enough. 
Why did we fail?
Innovation Failure Reason #1: Culture Mismatch
Hiring a senior innovation team did not magically create an organizational culture that was ready for innovation.  The CEO embraced change and innovation yet the overall culture was incredibly risk averse and valued hard work, smart spending, and visible success.  As a result, they had short runways for fresh approaches.
Innovation Failure Reason #2:  Desire for Insta-Results
Innovation doesn't happen with the snap of the fingers, it's not a simple process adjustment resulting in quick incremental improvement.   Innovation is wrought with failure and in this organization, when the numbers didn't show constant and aggressive upward movement, some leaders began to fear permanent dips and setbacks.  It's this fear that led to constant reactive tweaking of both processes and org design with the hope that somehow we'd hit on a magic formula to get the insta-results everyone was craving.
Innovation Failure Reason #3:  Change Management vs Marketing
We had a great design but unfortunately, the change management legacy that we had inherited missed the most effective element of any change plan – two-way communication.  News about the innovation organization was packaged and marketed but at no point did they open a conversation about fears, concerns or ideas to enhance the likelihood of success.   They never had buy-in below the CEO because people did not feel a part of the change; change happened to them without their full understanding or consent.
Innovation Failure Reason #4:  Loud Dissenters
We were the new kids on the block and hadn't earned any cred within the organization while vocal long time employees and trusted advisors were happy with the status quo. "Who needs innovation?  What we have is working!  Change is a risk we don't need to take," they insisted. Our results ranged from poor to average and instead of focusing on learning from our failures and making adjustments, much of our time as the leadership team was spent in a constant cycle of getting beat up, protecting our team from the punches, and defending decisions.
Innovation Failure Reason #5:  Already on Top
The biggest barrier to change acceptance for innovation was that the company was already widely accepted as number one in the industry.   It's hard to articulate and gain change acceptance when most people don't see the need to change.  The unspoken feeling across the organization was, "We've been on top for a long time and we'll be here for a long time to come. You can take your innovation and shove it."
Things are always clearer in hindsight and I can now see that while my colleagues were plugging holes in the boat, and I was drawing plans for a new ship, not one of us was willing to admit we were no longer gliding on the water, but instead stuck in the mud.   It's this blindness, or more truthfully, unwillingness to see, that led what once could have been a remarkable innovation for the organization and the industry, to devolve into an exercise in process reengineering.  
Still, I need to acknowledge that even though our original big vision was not achieved, there was value delivered that still has a lasting impact today.  Who knows if in the future the time will be right to try again and start anew.  Innovation is never one and done but is a journey with multiple paths and pit stops along the way all leading to the same destination; transformation.
What has been your experience with innovation and what has made it work for your organization?