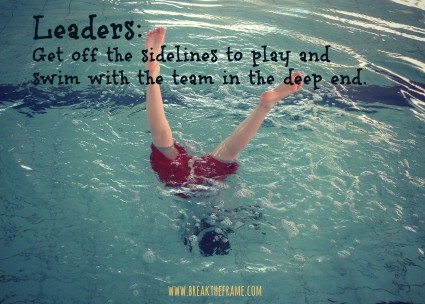 Each week, I dutifully take my kids to their swim lessons.  I get them from school, rush them through afternoon snack time, encourage them to throw on their swimsuits and off we go in the car to the hottest place on earth:  The Town Pool. Regardless if it's the middle of the winter or the peak of summer they keep the indoor pool area HOT.  I'm pretty sure the official temperature is somewhere between the depths of hell and the surface temperature of the sun.
As soon as we arrive, my kids immediately jump in, relishing their free swim time before their lesson, while I sit on a chair nearby, sweltering.  My kids are decent swimmers so I usually bring a book or an iPad to keep me busy.  Every sixty seconds or so I look up to see where they are in the pool and what else is going on that may cause them harm.
Town kids rough-housing?  I'm up, off my chair, calling my children to lecture them to stay away.
Goggles off?  Mom's up again, demanding they be put back on or they risk permanent red eyeballs.
Lesson time?  I stride with purpose waving wildly to get them to head to the lesson area.
Hot tub inappropriate?  Balls flying through the air?  Strange things happening near by… I'm up!  Sweating, annoyed and demanding that they take care and take cover at my direction.
Before you think I'm "that Mom" I also take tons of pictures while we're there, watch approximately one million handstands, and wave and smile every time they look up at me.  I also joyfully watch their lessons encouraging them with each stroke they take.  Still, swim lessons are far from my favorite part of the week.  After an hour and a half at the pool I'm usually crabby, hungry and seriously ready to go.
This week, I decided to make another choice.  Instead of directing, observing and encouraging from the sidelines, I did something shocking… I got in the pool.
A Whole New Perspective
Battlefield Turned into a Playground
You know, that ball that I thought for sure would knock my child out, it didn't look quite as dangerous from my new vantage point.  The view from IN the action vs ABOVE the action is radically different.  As leaders, and as parents, we need to take the time to see both sides and "get in the water" more often.  A sidelines-only view creates a lopsided response and oftentimes misses the mark.
Shifting Energy, Connecting Hearts
Usually, at the pool, time moves very, very slowly, as if we've been transported into another dimension.  This time, instead of focusing on me-me-me and the heat or them-them-them and every possible danger, WE emerged. Laughing, moving, engaging the time flew by and when we finally got out of the pool dripping wet we brought one other thing with us, the memory of our time together. Ready to make the connection at work?  It's nearly impossible to be engaged in relationships while sitting the corner office – get up, move, shift your energy out of your usual space to meet people where they are.
A Look in the Mirror
From the pool I could see the adults at the surrounding tables watching their children and in them, I saw a reflection of myself.  They were hot, reading books, fanning themselves and waiting for time to pass.  I may not get int the pool every week but looking in the mirror taught me that I always have a choice – cheer more, worry less, wave more, iPad less, smile more, nitpick less, enjoy more.
Leaders: When was the last time you got in the water to swim with your team?  Make today the day you get off of your chair on the side of the pool and dive into the deep end.  
For coaching, consulting or speaking Let's Connect!