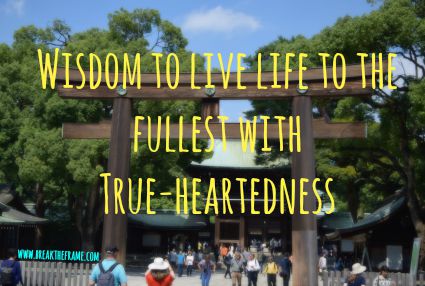 This week I'm travelling in Japan with my family. Part of our decision to move to Australia from the USA several years ago was to live life to the fullest – to intentionally  break out of our routines and experience the world beyond our day-to-day existence. It's amazing how 14 hours on  a plane took us from the Australian Outback to one of the most bustling, cosmopolitan cities in the world. I'm grateful to live in a day when that's possible.
Yesterday we visited Meiji Jingu and leaned into the peacefulness and beauty of the shrine. On our way in, each of our children selected a poem and our son's was written by Emperor Meiji. He wrote over 100,000 poems in his lifetime. The power of his words touched me and I wanted to share them with you. It's my hope that you will reflect on your own life and find places where you can open to love, connection and relationships to live life to the fullest.
Blue sweep of heavens

Wide and clear ~

Might my heart share

Their spaciousness!

~ Emperor Meiji
Consider:
"Let your heart, even in the midst of routine daily life, be as open and spacious as the wide blue sky  above. This is one aspect of true-heartedness."
Where do you need to open to life and love more fully? What change can you make to live your life to the fullest?