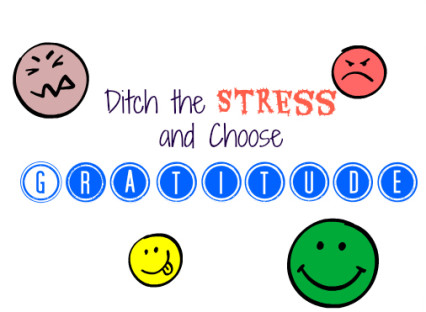 Like you, I have a lot going on between work, family and personal commitments.  I've let myself go deep in the frustration and aggression that the stress so easily brings out in me.   I even started to believe the stress-filled Alli, and the gremlin on my shoulder, that there are no long-term pathways out of the stress to make the leap into positivity.  In honor of World Gratitude Day on September 21st I decided to carve out five minutes to focus on gratitude and something shocking happened.
In just over five minutes of filling my heart and mind with gratitude, my day turned upside down.  The same things I was dreading doing were easier, less pressure and more of a gift to myself and others than a chore.  I brought joy to my tasks because I let myself be open to joy.
A pathway to make the leap to positivity is gratitude. (Click to Tweet)
Are you ready to ditch the stress and lead with optimism, positivity and greater personal fulfillment?  I can't tell you that gratitude is the answer to everything but the first step is to find five minutes, a blank page and bring an open mind and heart.
Here's my list.  I am grateful for:
My husband that puts up with me
My children that are incredibly loving
Having an adventure overseas
Blue skies almost daily
Living in Australia
Children that love school and life
Family holidays
My parents are coming to visit
My sister just had a baby
My brother is getting married to an awesome woman
My brother has two sweet and sassy kids
Artwork from my kids covers my walls
We realize things are just things and can share them with others that need them
Awesome clients
I've met the coolest, smartest people on Social Media
My accountability partner cares about my success and not only their own
Turkish delight
Amazing books that take me somewhere new
Smiles and giggles frequently fill my home
Sunday Markets to hang out and relax
A walking buddy that shines from the inside out
Technology that keeps me connected to people
FaceTime for bringing me not only to my sister's wedding but also now my brother's
The snake man who is super responsive and trusts that if I saw a snake, there is one to catch
The APO
Hazelnut coffee that is like starting my day sipping delicious joy in liquid form
More places than Starbucks to get a skinny flat white
Reward charts that motivate and recognize hard work
Pre-school cuddles with my kids even when I wish I was still sleeping
Living in a place filled with diversity
Living somewhere that many people smile
Having the money to donate to causes that matter
A home that's filled with people who love each other
iPad learning games that don't seem like learning games
My health and the health of my family
Fresh challah out of the oven most Fridays
I get to choose the work that I do and make a difference to others
When my family asks what gifts we want for our birthday/holidays I struggle to find an answer because we have everything we need
Make the Leap Action: Spend five minutes with gratitude.  Don't just think about it.  Write it down.  If you're up for it, SHARE it.  Gratitude grows when we share our hearts, joy, and what we're thankful for with others too.
I shared my list.  Will you share yours?
For coaching, consulting or speaking Let's Connect!