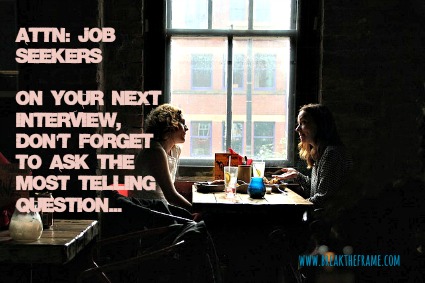 Just over five years ago, I went on a series of job interviews before I decided to start my own business. In each organization, at some point in the process, I was introduced around the office and given a chance to chat informally with a few of the employees. With a radiant smile on my face, I pulled out my tried and true questions but only one was the most telling question, and one I continue to ask nearly everyone I meet.
Yes, I asked if they liked working there. Who's going to tell me during an interview that they hate it?
Yes, I asked if most days the work was challenging. If they said, comme ci, comme ça I'd head for the door.
Yes, I asked if they thought I should work there. Silly in retrospect.
Yes, I asked if they were happy. Turned out most of them rationalized that answer and told me the same truth that they were trying to tell themselves.
Yes, I asked about the culture. I mostly heard the same answers, none of which were remarkably inspiring.
Yes, I asked about career path and what made the organization great. Most answers were a yawn and felt more like marketing materials than a straight up answer.
All good questions but every single one had a right answer to tell a job candidate and a wrong answer. Unfortunately, over the years, I discovered that it's easy to bend the truth to recruit new talent to lure them into your private hell. Not that you would ever do that.
I hope that's not the case in the majority of organizations, but I used to consult with my client's recruiting functions to help them craft both a compelling and honest message for candidates. Too many of the organization's recruiting messages did not match the reality of the day to day job. An employee value proposition that ends up being more sales message than reality is a rude slap in the face for too many excited new employees before they get through month one. I've been there and in all likelihood, you have too.
That's when my golden question comes in handy. You can't fudge the answer. Well, you can outright lie but who wants to work for a company where lying to candidates is their go-to MO?
The Most Telling Question:
How long have you worked here?
That's it. Short, sweet and oh-so-telling.
I didn't ask because I gave more weight to people who had a longer tenure; a pattern quickly emerged.
11 months
14 months
6 months
2 years
Wow, I thought. Kudos to the person who made it two years.
8 years
4 years
12 years
2 years
Talk about longevity. I thought most people were job hoppers these days. Guess not if you worked here.
Bet you can guess my next question.
What made you want to stay?
In all the times I've asked, nobody has said, "because it was easier than leaving."
Now, when I meet new people I'm still curious beyond "what do you do for a living?" I always bring out my most telling question and go deeper from there.
The other day I wrote about one of my shortest jobs (I never even made it to the first day of work!) Tell me about your longest job. How long were you there? What made you stay?