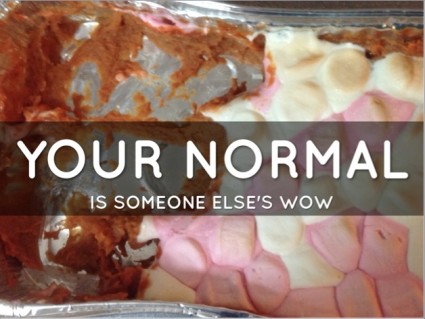 This year, as my family and I celebrated our second Thanksgiving living in Australia, we decided to make a big Thanksgiving dinner and share it with some of our Australian friends and new neighbors that we're so thankful to have met.  Of course, there is no long weekend here or a day off to cook on Thursday, so we had Thanksgiving Saturday instead.
I went all-out for the meal and the only thing missing was the Turkey (they're not so easy to get in the Outback).  All the fattening and delicious usual suspects were on the table: potatoes, stuffing, rolls, apple pie, roasted chicken (sometimes you've got to make do with what you can get!), and of course, sweet potato with marshmallows on top.
Our Australian friends were so polite!  They complimented the food before they grabbed their phones to take pictures of the sweet potatoes with marshmallows to send to all of their friends.  They could not believe it and they were fascinated!  They asked if it was a usual dish in America and were curious if it's the American equivalent of Vegemite.  I explained that I've only seen it eaten or served on this particular holiday but it's a decadent once a year treat.  They both put a small amount on their plates and definitely found it… interesting.
What's in it?
You've really made this before?
How did you do it?
It's good!  It's just so… different.
A dish that I've eaten on Thanksgiving since my childhood, part of my personal holiday status quo, was suddenly a novelty!  My normal was someone else's way out there, on the edge, bizarre.  Wow.   Where else in my life do I have some sweet potato with marshmallow going on?  What about you?
Normal is the new cool.  Go ahead. Rock someone's world with your hip, cool, normal-self (Click to Tweet)
Don't be so quick to judge normal and push it aside. Normal to you may be powerful and new to me.  You've got some good stuff going on… OK, great stuff!  When you do the same things over and over, and it becomes a part of your normal, all that goodness can get lost in routine.  What happens when you take your routines and intentionally share and apply them in new places?  Voila – the power of normal, harnessed. 
Never forget: Your normal is someone else's WOW. (Click to Tweet)
Break out and share your normal – you'll be amazed at what  happens.
Interns
Interns come to your team with tons of book and classroom knowledge and a strong desire to learn.  Instead of only assigning them tasks, talk to them, share with them.  You'll find an energetic, curious and engaged audience that will learn from your normal practices.  Be a leader who shares the learning. 
New Hires
Learning is a two-way street and new hires, whether they are experienced or directly from campus, probably have their own normal practices that come with them.  Be a leader who defers judgement and is open to new ways of approaching the work.
New Boss
Don't worry that your normal way of doing business will be squashed, and instead accept that together, you can be even stronger.  Your new boss' normal best practices meets your rock-star self?  Hello sweet potato – meet marshmallow!  Be a leader who sets the tone for success with the new boss instead of starting with a chip on your shoulder. 
New Organization
Your normal way of doing business may be really foreign in your new org but don't dismay.  Instead of caving to the pressure to do it "just like everyone else," be true to yourself.  Take the time to share your normal practices and fold in some from your new normal too.  Be a leader who is constantly evolving and not stuck in their world-view. 
Your Kids
When was the last time you invited your child to join you instead of coaching them from the sidelines?  That's not how you make a bed, tie your shoes, use the microwave or any other million things that they don't do just like you.  Get out of your armchair and invite your child to learn and engage with you, side by side to connect and amaze them with your normal wisdom-filled self.  Be a leader who invites others into a relationship with you to share your normal-know-how instead of directing from the sidelines.  
Make the Leap Action: 
Sometimes, the way you've always done it becomes fresh and unexpected when you share it with new people and new places.  How will you share some of your "sweet potato with marshmallows on top" with the world in today?  Identify just one to start and get ready to spread the love.
Soooo…. What's your sweet potatoes with marshmallows on top that is ready to come out and create a WOW moment?
For coaching, consulting or speaking Let's Connect!