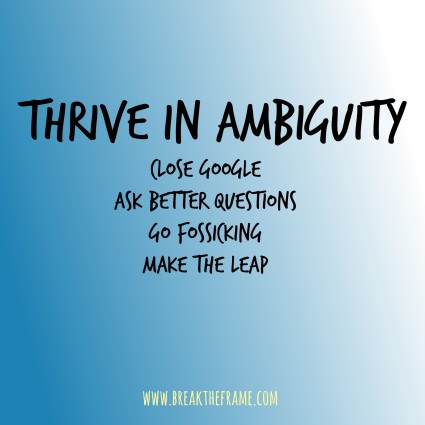 Today, I'm filled with far more questions than answers.  I keep sitting with the same questions turning them over and over, researching the answers on Google for hours on end, and waiting for my ah-ha moment. Frankly, deep down inside, I know my answers aren't out there, floating in cyberspace, waiting for just the right keyword combination. (A girl can wish, can't she?)  Life will always be filled with questions that can't be googled, because the answers are in us… not out there.  Strong personal leadership requires each of us to learn to thrive in ambiguity and not give in to paralysis, whining, or throwing up hands in defeat.  Easier said than done?  Not if you're asking the right questions.
There are small questions that can hang us up:
What should I wear to my meeting today?
Is it too soon to follow-up?
If I eat the cake tonight, how many miles will I actually run tomorrow?
There are big questions that pull us into ambiguity:
When is the right time to start my own business?
Is it possible I'm the worst parent in the world?
If I make the wrong choice, what if I can't undo it?
Questions shouldn't stop us, but instead deepen our understanding of what's really important.  Sometimes, simply reframing the question is enough to have the ah-ha you need.  Other times, it's sitting with the question, instead of shooing it away, that can truly be the most powerful.  Yet others are simply focused on the surface and it's what's underneath that is hanging us up the most.  No matter how you do it, it's time to make a decision.
Learn to Thrive in Ambiguity
Here are three questions to ask as you work on your personal leadership muscle and learn to thrive in ambiguity.
What's the worst that can happen if you just get started?
Ambiguity can be cloudy, undefined and down-right scary.  Big ol' Type A's like to take swift action and want to do it NOW.  So… move.  Get started. Are you really going to let a story about "the worst thing" stop you from going where you need to go?  Say it out loud, write it down or tell a friend your down-right scary worst-case thing.  Let it breathe, like a fine wine, and flick it away.  Start directionally correct and you'll find success faster than standing still and waiting for divine intervention.
What will happen if you make no choice at all?
Tempting, isn't it?  As if making no choice leaves everything magically up to the universe and your ultimate destiny.  Hello… sorry to interrupt this programming, but that's just a load of crap.  Making no choice at all is absolutely a choice for the status quo.  You better be ready to keep things as they are and see how they play out because that's what you're choosing.
What is your gut telling you?
Endless research can serve to muffle our inner-knower only for so long.  Facts matter, but so does feeling. The flashlight that will cut through the darkness of ambiguity is often your gut and heart, and not a spreadsheet or search engine. Learning to tune into your gut will serve you well in all aspects of your life and personal leadership.
I love that in Australia, people go gem and gold fossicking, or prospecting, to find unseen treasure.  They sift through the mud and dirt to find the treasure hidden within; it's hands on, in the mess, pure discovery.  Exactly what you and I need to do to move through ambiguity to discover the hidden gems and answers within.
Leadership is thriving through ambiguity, yes.  But when you unpack that statement, it's clear that leadership is making intentional choices and feeling your way though, based on what you know and value.
How have you thrived through ambiguity?  Please share in the comments below. 
Are you ready to do some personal fossicking?  Let's Connect!