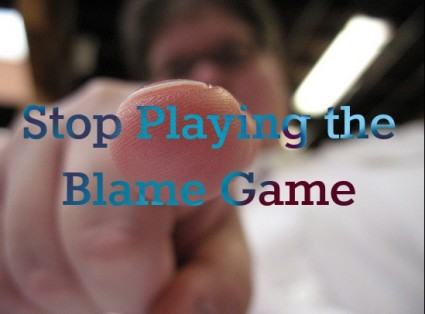 This weekend our house was full of little children, parents and grandparents, all convened to welcome our family back home for our visit to the USA.  A fly on the wall would confirm that there was lots of laughter interspersed with intermittent yelling, biting, screaming and crying too.   The screaming and crying was mostly from the children and the yelling primarily came from the adults that were fiercely protective of their little angels.
Over and over one or two children would come running up from the basement, the kid-zone, to report on recent injuries and hurt feelings.
"What happened?"
"Max is pushing."
"Oscar is not sharing."
"Jamie is not playing fair."
The adults would quickly take the word of kids, ranging from ages three to nine, as the gospel, get ready to place the blame, and punish the perpetrator.  Seriously?
Why are we so quick to berate and what role does our desire to have a scapegoat play in teaching the behavior of "passing the buck?"  Ask a three-year-old if they colored on the wall, they'll say "yes!"  Yell at them and tell them how bad they are, and the next time they do it, they'll quickly learn to deny it or point the finger at another child instead.  We need to keep our focus on behavior "what you did was really bad" vs focus on the person "you're so bad."
How does this show up at work and in our adult lives?  We become masters of the blame game and far less skilled with collaboration, accountability and responsibility.
When a work project or a personal relationship fails, we hear the same answers that the children had for the adults this weekend.
"What happened?"
Pushing, not sharing, not playing fair, hoarding information, not enough time, limited resources, ganging up on me, I hit them because they hit me first, on and on. 
Ending the Blame Game
Stop the finger-pointing and placing blame.  It doesn't matter what others do, it does matter what you choose to do.
Take responsibility
You may not be solely responsible for the situation but you are in the mix.  Stop living as if everything happens to you and take responsibility for your role.
Life isn't fair
You've been wronged, someone threw some big-time obstacles in your path, and the stars did not align.  So what?  Accept the challenges and keep moving forward; don't waste your time complaining and finger-pointing.
Work together
With the kids, they needed to work together to clean the messy basement no matter who took out most of the toys.  At work, instead of getting hung up that one co-worker can't get the job done and is holding up the team, help them.  In your relationship, instead of yelling that friends can't come to the house because it's such a disaster, clean it together.
Get it done
Scapegoats don't stick around forever, they either get frustrated or fired and either way they're eventually out of the picture.  Instead of listing all the reasons why you're golden and everyone else messed things up for you, the team, or the project, just get it done. It's a much better story to tell about how you tapped into relationships, supported your friends and colleagues, stepped up into your personal leadership and simply got things done.  No bullying, no histrionics –  it's called leadership. 
This weekend, eventually, the question for the kids became:
"Is someone bleeding?  If not, work it out."
Take on the same challenge:  Stop placing blame.  Work it out.
How have you put an end to the blame game?  What advice do you have for others?