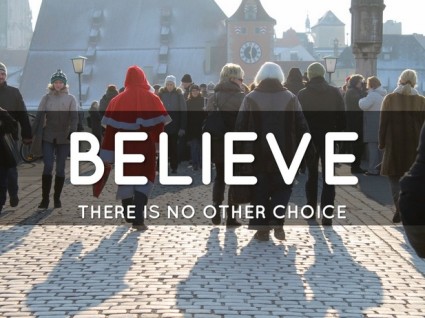 Santa has visited my home on Christmas Eve since I was a little girl.  He now comes to leave toys for my own children.  Growing up, my parents said that as long as my youngest brother still believed, Santa would come.  My brother swore he believed well into his 20's and Santa continued to make an appearance.  (I have one smart brother)
This week my nine year old daughter came home from school and said to me:
"Mom, some kids at school said that there is no Santa Claus and that their Mom and Dads leave them presents.  I wonder why they think that?  Why don't they know the truth, that it's Santa?" 
Even when faced with peers telling her it isn't true, my daughter believes.  When was the last time you believed in something like that?
When you believe, you can see the magic
When you believe, it doesn't matter what others think
When you believe, anything is possible
When you believe, you can create your own future
When you believe, worry falls away
When you believe, your dreams become real
When you believe, great things can happen
Ask yourself:
What do you believe in so strongly that you're not willing to be derailed by naysayers?
What dream do you hold so important that action is not an option, but a must-do?
What is your passion for 2013 and beyond?
If you don't know the answers, don't sweat it.  Now you know that's where you need to start to make 2013 the most spectacular year yet.  I believe you can do it.
What is your dream for the new year?  Tell us about it in the comments below.  Share it with the world!  Believe you will make it happen.