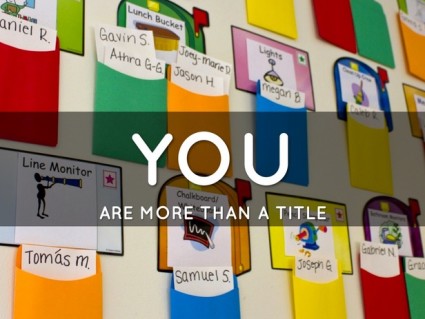 Who am I anyway?  Am I my resume?  That is a picture of a person I don't know.  ~ A Chorus Line
I have a secret: The higher up I was promoted in organizations, the more I associated who I am with my title and the more I lost… me.
I started as an analyst and I had a full and rich life.  I worked a ton but also made the time for friends, colleagues and shared adventures.  Then, just two years in, something happened… I got my first promotion and was officially supervising other people.  My old peers were no longer inviting me to lunch as often and, as if was possible to find more hours in the day, I cranked up my hours even further.  In that moment, who I am and what I do started to get blurry.
The attachment to title over inner knowing and living my core values became even more evident in the months before the year 2000 when I decided to leave my go-go-go consulting life and move into a senior HR position.  Overnight I moved from working in the core business to… overhead.  I had a hard time not with the work, but with the transition of titles.
Still, I climbed higher and higher until the view was high enough for me to see that I couldn't see myself anymore.  I was like a dot beside a big ladder.  It was time to take stock of my passion and my purpose and finally listen to the stories they were telling me.
I started to ask myself some critical questions:
Who am I as a leader?
Who am I as a person?
Am I really a different person at work and in my life?
What do I love?
What do I really want?
I worked with my coach to dive deep into my personal values.  He helped me to reconnect with my inner INFP from college and shed some of the INTJ I'd put on and let grow like a big winter coat enveloping me as I played into my corporate persona.
Ask Yourself:
Do you know who you are underneath your corporate persona?
Do you bring the same level of authenticity with you both in and out of work?
Are you living a life in alignment with your core values?
What are you most passionate about?
What is your personal leadership legacy?
You Have the Title, Now Find YOU
The right to lead is not found in your job description or handed to you by virtue of your title.
Leadership is found in authentic connection
Leadership is found in honesty with self and others
Leadership is found in a commitment to learning
Leadership is found in caring and engaging
Leadership is found in listening with an open heart and mind
YOU are found when you know yourself so others can know you as a leader and as a human being.
You, my friend, are more than your title whether it's Analyst, Manager, CEO, Engineer Level 3, Director, President, VP, or Executive Director.
Who you are and what you bring to the table is much more than the history of accomplishment listed on your resume.  Make the time to journal, work with a coach or talk with a trusted advisor on a regular basis not only to review action plans for your next big project but also get to know the leader inside of you.  Discover what matters most, know your message, and share it with the world. 
Do you know your purpose?  What is your passion?  Are you living a life in alignment or discord with your core values?