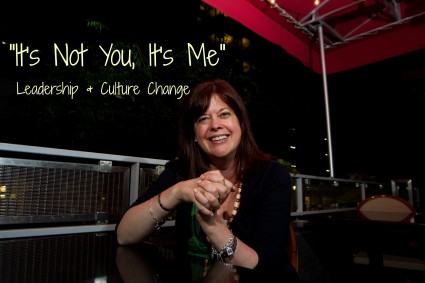 "It's not you, it's me" is usually reserved for crappy break-ups but it's also a truth that shows up in new starts.  Expats, leaders, and new hires have all experienced an "it's not you, it's me" moment.  It's the moment we realize that we're the oddball, strange, weird, different person on the scene.  When we shift cultures, not only do we see our surroundings with fresh eyes, but also we see ourselves reflected by the new culture too.
Australia is my new home but I'm also a visitor.  My lifetime of experiences came with me on the plane; I'm still an American.  Here are a few of my "it's not you, it's me" moments over the past few months.
My daughter's good friend came to dinner last week and during the meal turned to my daughter and said, "You know, I can't understand a word you say most of the time."

My son's friend came for a play and when it was lunchtime, I offered peanut butter and jelly.  His friend looked mortified and asked, "Do you really eat that or are you joking?"  When he realized I was serious, he asked for Vegemite (Unfortunately, just the thought of Vegemite makes me gag).

I can't buy my favorite Dannon coffee yogurt, turkey bacon, real bagels, or find paper towels that are larger than a small pocket square but I can easily get my hands on some fresh kangaroo mince (yuck!).
I see opportunities for improvement everywhere.  Part of me feels like there should be a suggestion box so I can help them embrace some good ol' American goodness here in the Outback.
Local stores have been known to stop carrying items because they're too popular to keep on the shelves and constantly have to be reordered

They sell 25,000 kinds of ham but only one choice of turkey

Most businesses close by 5:00 PM and have few weekend hours
Reality is I'm not going to change the way they speak in Australia, instill a magical love of PB & J or convince them to import Bounty just because I like it. 
I have a choice:
Import everything I can't live without so I make living in Australia

just like living at home

Embrace the great things about the Australian culture and accept

what is

instead of wishing that it was more familiar (as if that's better)
I didn't move here for more of the same.  Have you ever taken a new job or moved to a new team for more of the same?  I doubt it.
Don't change for you

Don't change a thing, for me

~INXS
Leaders, expats and new hires, we all face the same choice – embrace or resist.  New countries, new teams, new organizations all have their own culture that comes with strengths and challenges.  The trick is to shift your perspective from a me-centric view of the world to the new we-centric.
Being human, we long for what's familiar and assume that our way is the best way to live, work and lead.  Too often, leaders join new teams and organizations and the first thing that they want to do is show that they're adding value.  How?  By making their mark through immediate changes and implementation of "best practices" (meaning: the way I like to do it).  The thing is, when we're so quick to compare old to new and assume that old is better, we miss the strengths of where we are right now and only focus on the weaknesses.  
Have the desire to get into immediate action?  Do this:
Instead of jumping in to make things better and change the culture, defer judgment.  Spend some time, get to know people, ask a million questions, listen with beginner's ears, open mind and open heart and then decide what needs to happen next.  Immediate judgment clouds our thinking and locks us into a world that only has right and wrong.
I no longer ship my favorite sugar-free hazelnut Coffee Mate.  Now it's too sweet, too artificial.  I wonder, when I move back to the USA, how many things from Australia I'll long for and try to ship?  Will I be that obnoxious person that says at every meal and every meeting, "When I was living in Australia…" How many times will people roll their eyes before I'll realize that each one of us has unique stories and unique experiences.  Yeah, I lived overseas and you worked for some really cool companies.  Still, what matters, is that we're committed to bringing our whole selves and whole experiences to where we are now.   
Embrace what's new in the present instead of trying to replicate what's known from your past and you'll be surprised that you're no longer an outsider.  That's the moment when "it's not you, it's me" becomes us.  
How have you embraced newness in your life?  What tips can you share to ease the transition?