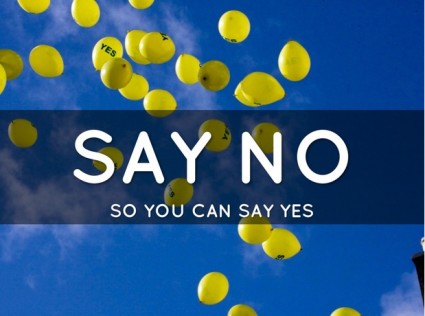 Are there people in your life you'd like to say no to?  Are you always saying yes even when you don't have room in your life for more commitments?  The solution: Practice the Art of the No.  Like any other skill, it takes practice to find your groove, but every time you do, it will get easier to say no.
Why Say No?  Won't People Hate Me?
No, they won't hate you or despise you or give you the evil eye.  When you are intentional about when you say yes, and on the flip side, when you say no, you are officially in control of your time and energy.  Own your decisions and you'll be able to take decisive action towards what matters most. 
What is the Art of the No?
Have you ever been around someone that says no to your request but somehow you still you walk away feeling heard, validated and valued?  That feeling – that's the art of the no.
Ready to give an honest No? 
Engage with honesty and purpose, and yes or no, you'll be an example for authenticity at its' best.
1.  Be honest with yourself:  Quickly ask yourself a few questions:  Why do I want to say yes?  How does the idea of saying yes make me feel?  What's the risk if I say yes?  What's the risk if I say no?  Could I be wrong?  Am I making up a story here?
2.  Be honest with the requestor:  You can give a big long reason why your answer is "No" but that doesn't change the reality of your response.  Giving a story, or worse, a story that is laced with a white lie to make someone feel better, doesn't work in the long haul.
3.  Remember, you are the same: It doesn't matter if it's your boss, your child, your friend or your neighbor you're the same – you're all just people.  We all have our own needs and priorities.  Their needs are not greater than yours nor are yours greater than theirs.  However, you are the only person that can weigh your choices and make the right decision for you.
4.  Supportively offer an alternative: We're not four years old and there is no need to shout "No" at someone and charge off in the opposite direction.  Recognize someone's humanity and let them know you recognize the importance of their need although you still can't help.  Try:  I can tell that this is important to you.  Let's talk about how we can make this work another time.  If you want to open the door to deeper discussion on helping in the future, state that you want to help and let them know what's stopping you. Ask: "Can we work together on this?"
5.  Get over the guilt:  When you say no, with love and peace in your heart instead of fear and guilt, you are fully embracing your own destiny.
6.  Stop talking: Simply say, "No" and don't offer a "but" as if you are not allowed to stand up for your needs and priorities.  The more your talk, the more you're trying to make yourself feel better for your response.  Live with the truth of your "No" and get clear on what you're saying "Yes" to in your life in exchange.
Saying no is a critical step in creating, and living a balanced life.  With love and caring, you can put yourself first, and walk away with integrity.
How have you managed to say no and leave the guilt behind?  Hope you'll share your story and your lessons learned in the comments below.