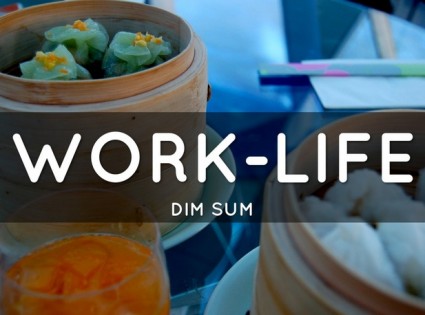 I love going out for dim sum.  Never ending carts of interesting cuisine pops by my table for me to try.  Some things look delicious and our table decides to give it a whirl.  Other things come by and I find it hard to believe that anyone would ever eat that; I politely decline and wait for the next.  Before I know it, my table is full of small plates of known and unknown tastes.  I'd like to try more but there is not an inch available to put another plate. 
At this point in the meal I'm faced with several choices:
Finish something to make room for something new
Consolidate plates and start stacking
Remove one of the half eaten plates
Admit that I really hate one of the things I selected and let it go practically untouched.
Go with what I've got and ask for the check
People often think that work-life balance looks like scales that are somehow magically, and perfectly, in balance.  Actually, work-life balance is a lot like going out for dim sum.  The same choices available to us at a dim sum restaurant are also available to us when it comes to work-life balance.  The key is being conscious about our choices instead of getting buried by them.
Finish Something to Make Room for Something New
Every single time you say "yes" to something, you're saying "no" to something else.   There is no room for new tasks, relationships, responsibilities or connections if your smothered by the mix you're already working.  Get organized, create lists to help you prioritize and cross things off when you're done.  You will feel great as you focus, make progress, and get things accomplished.
Consolidate Plates and Start Stacking
We all know that when you stack plates they get higher and higher until things are perched precariously and could tip at any time.  The same holds true for work-life balance.  It's not really an option participate in a conference call while you drive your kids to ballet lessons and the big soccer game.  When events blend, our multi-tasking skills get pulled to the edge, and whether we admit it or not, something (or someone) suffers in the process.
Remove One of the Half Eaten Plates
Every task you start does not have to be completed by you.  Delegation is a powerful tool for growth when you off-load something meaty.  Delegation is also key for overall effectiveness.  You can't get everything done on your own all the time – even if you work 24/7.  When you have a great team both in and out of the office, and you get clear on what needs to be completed, someone else can run with it to the end.
Hate Something? Let it Go Untouched
This is hard to do.  By making a selection of dim sum, I'm paying for it so I should eat it, right?  Wrong.  The same holds true for the work-life balance choices you put on your plate; it's OK to take some of them off untouched.  Try it.  Not every task we take on has equal impact or importance.  Work on the big stuff and forgive yourself when you let other tasks you hoped to get to pass by.
Ask for the Check
When it comes to work-life balance we need to know when we have just had enough and it's time to unplug and recharge.  If we're constantly in motion, choosing and acting on this and that our minds are going in 100 different directions and our stress levels can soar.  Be mindful and get to know your signs for when it's time to check out.  Get a massage, cuddle with your kids, and watch your favorite show…. Just close your laptop and turn off your phone while you do it.
We all have the same number of hours in a day but we all make different choices on how to fill each one.  Ever notice that dim sum restaurants have huge offerings?  Different choices work for different people.  Your version of work-life balance doesn't have to work for me nor mine for you.
How do you know when you're in balance or need to make new choices?  How have leaders in your life empowered you to make work-life choices that work for you?