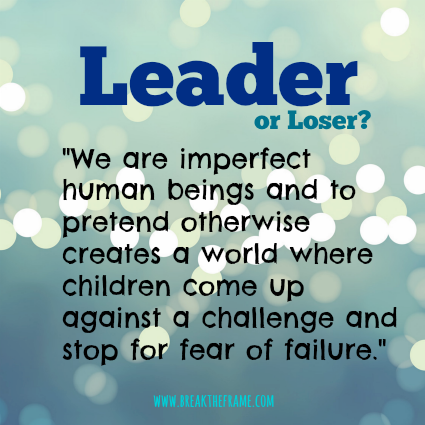 My son sat down to do his homework last night and it was hard for him.  Being his Mom, I encouraged him, "You can do it, honey!"  The more I encouraged him, the angrier he became until he melted in sadness.  He cried and shouted, "You think I'm a winner.  You think I can do it.  Well I don't want to be a winner.  I want to be a loser."  My heart hurt as I watched my little boy struggle and clearly in pain.  It was time for me to stop talking and start really listening and understand why he was set on becoming a loser.
Why doesn't he want to be a winner?
He can't do his homework, he said, and pleaded with me to accept it as true.  Through his tears my son told me that the winners at school are mean and they brag.  They are not kind to other kids and only think of themselves.  They talk about how they're the best and only make everyone around them feel bad that they're not as good. Why would he want to be someone like that?
Why does he want to be a loser?
A loser can mess up, he cried.  A loser can try and nobody is going to be disappointed when they can't do it.  A loser is going to make other kids feel good because they are friends and not better than them, just friends.
I told him he's smart, kind and loving and I love him with all of my heart.  The world doesn't need more people with labels like winner or loser, but the world needs more people who:
Try and fail and try again.
Try even when it's not easy.
Do their best.
Celebrate others who do their best.
Are good friends.
Don't constantly compare themselves with others to feel good.
Believe in themselves and in others too.
Dream crazy dreams and then work to make them come true even when everyone else says it's impossible.
Go all out with everything they do.  Riding their bike, singing a song, homework, baseball… everywhere.
I could accept that my son could not do his homework if that turned out to be the case.  I would not accept that he was unwilling to try because it was hard.
My son thinks he's becoming a loser because he's coming up against his limitations while simultaneously feeling the pressure to reach for perfection.  In truth, like most people, he's struggling with being a human being who hurts, cares, loves, tries, fails, and keeps on going.
Enough with becoming a loser, boxes never serve.  I think he's working on becoming a leader who can accept people's best will not always be perfect – the first person he needs to apply that lesson to is himself.  Our challenges are not equal and neither are our strengths which is why we are stronger together.  I'm really clear that his best should not be "as good as" his sister, his best friend or his cousin.  It's what he can and will do that matters the most.
Once he dried his tears, we sat down together at the table.  We talked about his homework, created a framework, and it started to flow.  Did he finish it? No.  Did he learn that he could tackle it, but he had to look at it in a new way?  Sure did.
We are imperfect human beings and to pretend otherwise creates a world where children come up against a challenge and stop for fear of failure.  How can we let our future leaders, with so many gifts, think that they're not enough to meet the expectations of the generations before them?  We are all enough, more than enough, we just need to find the courage to try.
What are your thoughts?  Do we need more losers and winners or leaders?
For coaching, consulting or speaking Let's Connect!