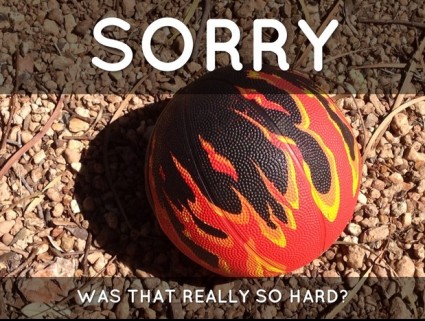 When you do something wrong, is the first thing you do say "I'm sorry" or is it to look around and see if anyone noticed?
I walked my son to his classroom this morning and he still had a few minutes to play before the morning bell.  Some sixth graders were kicking a footy ball nearby and I hardly registered their presence.  I was busy looking at one little boy's loose tooth when the footy ball suddenly whacked me on the head.  I looked up for an apology but all I found were two boys looking for their ball.  Surely they had to notice that they hit me – hard.
I said "When you hurt someone, even if it's not on purpose, it's great to say I'm sorry." The boys looked at each other, confused.
"Do you think whoever hit the ball can say sorry to me?"  This led to some feverish pointing to each other and mumbling back and forth from the boys.
I stood there, watching them and saw the guilt and shame on their faces but also the absolute uncertainty about what they should do next.
Eventually, I asked if anyone knew their names so I could go into the office and inform them that these boys were playing too close to the littlest kids and were unapologetic about injuring others.
Finally, one boy, as he walked past me, without looking at me for more than 1.2 seconds, said "sorry" and went to find his ball.
OK, clearly I know that they didn't do it on purpose.  I also realize that I'm a bazillion years older than them and having an adult ask you for an apology can be intimidating. However, I also know that when you do something wrong, even by accident, you have a choice:
Apologize
Justify your actions
Pretend it never happened
Leaders, regardless of their age or position say sorry; losers remain silent.  (Click to Tweet)
Why is it a loser-thing to remain silent?
Silence after wrong-doing is arrogance; "I'm sorry" is connection.  Only losers intentionally chose the arrogant path.
It's a false sense of entitlement that you get to do what you want regardless of the consequences.
You show how small you are, not big and tough, when you cause pain and walk away.
We are all human – to pretend that you don't need to say sorry overlooks our humanity.
We are all in relationship with each other whether we want that to be the case or not.  Choosing silence breaks the bonds of relationship and leads to self-imposed isolation.
You buy-into your self-justifications and instead of seeing "what is" you create a me-centric view of the world instead of we-centric.
Do I think that the older boys will stop kicking the footy ball near the little kids, many of whom have not even lost their first tooth?  Probably not.  Will the boys apologize the next time they kick the ball into someone's head?  It's a toss-up.  My hope is, that instead of holding onto their shame, they'll step into their personal leadership with a quick and honest "sorry!"  We can't erase the past but we can acknowledge our actions and make new choices in the future.
Make the Leap Action: Leave guilt, shame and self-justification at the door.  Say "I'm sorry" and move forward instead of ignoring the impact of your actions and having your mis-steps grow in magnitude and impact.
Does sorry come easily to you or can it be a tough pill to swallow?
Are you ready to make the leap?  For speaking, coaching or consulting, Let's Connect!