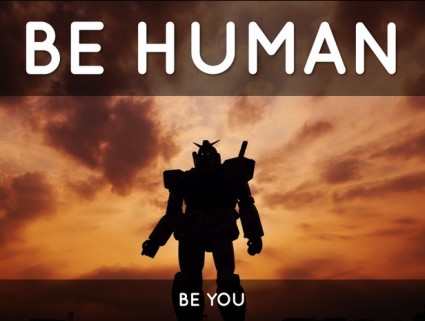 I meet so many people who talk about their life and work as if they are literally two different worlds – the level of compartmentalization is extreme.
Like a badge:
"I never talk about work at home"
Dripping with judgement:
"I can't stand it when John talks about his kids at work.  I never talk about mine at the office."
Club members only mentality:
"Our holiday party is Saturday night!  Employees only though."
We've created a view of the world where people are pressured to show up as workers, but not as people.
People have whole lives – Workers have work
People have joy and sorrow – Workers have work plans and deadlines
People have good days and bad days – Workers have productive days and unproductive days
People have a life that doesn't stop – Workers have work that doesn't stop
People have relationships – Workers have co-workers
It's almost as if we've come to a place that we're half-people half-worker, super-human robots that can turn on and off with the flick of a switch.  At least that's what we'd like to think… However, that's not our reality.  Work bleeds into 24/7 thanks to omnipresent technology.  Smartphones, email, text, hangouts etc mean that we don't have to be at the office to be working.  Why is it that work can constantly spill into our off-hours but life can't spill into our work without the stigma of looking weak, uncommitted or, at best, messy.
Can a Half Person Be a Whole Leader?
Leadership should not require us to wear a mask and play a role to get people to follow our vision.  I don't know about you, but I want to work with real people.
People who laugh
People who understand that I'm worried about my sick child at home
People who mess up
People who care about other human beings
People who are human beings
The best leaders make the leap to not only show us their smarts but also their hearts (Click to Tweet)
Being a full person at work does not mean constantly talking  about family, TV and sports and our latest vacation… but it allows room to talk about the things that matter to us and make us who we are.  Accept that we have good days and bad days, sick days and on days etc.  Hello!  We have 24 hours a day to live our life not eight at work, eight to sleep, and eight to enjoy.  Choose to enjoy it ALL and be you 24/7.  We are not half people but whole people and whole leaders with whole lives.
I'm not calling for the eradication of all boundaries – just an acceptance that lines that can move, blend and blur to create meaning no matter where we are.
I want to be a leader that shows up as my full-self.  Goofy, happy, serious, mom, partner… the full range of who I am.  What about you?
For coaching, consulting or speaking Let's Connect!