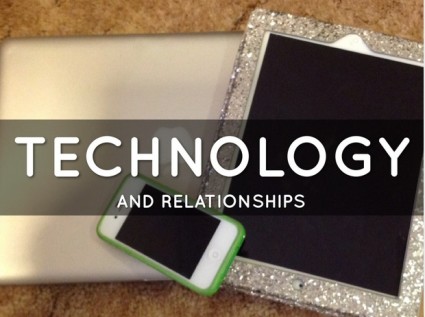 My baby brother is getting married on Saturday night.  He's going to walk down the aisle, as will his awesome wife to be, they'll exchange vows and celebrate their love and commitment.  All of this is going to happen on Long Island in NY and I'll still be in Central Australia… but I'll also be at their wedding.  I'm going to sit with my family and together we'll see the flower girl throw the petals, see my parents walk with my brother, and hear every word.  How?  FaceTime. Technology is amazing.
While technology has certainly taken over our lives in many ways with round-the-clock access to information, and to each other, it has also made the world a smaller, more personally connected place and brought people closer.
We get to choose: Does technology facilitate relationships or does it replace them? (Click to Tweet)
Technology Can Take Relationships the Distance
I've made many friends on Twitter (yes, real friends – let's not debate it here).  I also meet regularly with coaching clients on FaceTime and Skype enabling both of us to make eye contact and read body language.  Facebook is like a window into the lives of people who I knew when they were 16 despite the fact that I haven't seen many of them in person since the day we graduated high school. Technology is amazing.
It's Not All Roses and Unicorns
Yes, technology has dramatically changed the way we engage and connect and not all for the better – technology can definitely be a burden.  Round the clock tweets, IMs and emails make my phone sound like a pinball machine.  For some reason every ping and bing is as if it's calling my name begging me to read and react immediately.  Technology is amazing but it's up to us as human beings to decide if it makes our lives easier or harder.  

Ask Yourself:
Does technology help take your relationship the distance or is it more like a constant roadblock to real connection because your smartphone appears more interesting than your partner, child, or employee?
How can you actually use technology more to enable you to spend less time on the road or in the air but still be present and engaged?
Technology can either be a friend of mindfulness (when you're looking eye to eye at someone it's hard to pretend you're not multi-tasking) or it can be a foe, a constant distraction.  Which one is more common for you?
Make the Leap Action:

Technology can never replace a heart connection but it can facilitate it.  Use technology to focus on connection and building relationships instead of one way marketing signals and lots of noise in an already noisy room.  On social media, reply, engage, ask questions.  As for email, I promise, if it's really that important they'll pick up the good old-fashioned phone. Close the laptop and put down the phone once in a while to connect in the flesh with people who matter and deserve your full, undivided attention.
As for me, I'm looking forward to cuddling on the couch with my children and husband while we are magically transported to the wedding and reception.  It will be a joy to see their faces, hear the toasts, enjoy the cool music and be present, even when far away.
How have you tapped into technology to effectively build and deepen relationships?
For coaching, consulting or speaking Let's Connect!