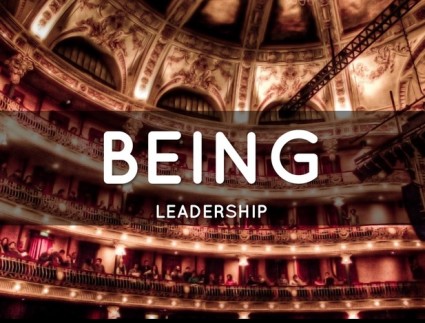 I took my first acting class when I was in elementary school and theater was a part of my world all the way through college and into "real life."  At some point, probably around the arrival of children and promotions at work, life got incredibly busy, acting fell away and became a happy memory.
I still remember preparing and performing like it was yesterday.  I would run my lines, what felt like 1,000's of times, until I got to the point I could speed through them, a million miles an hour, without stopping to think.
I easily flashback: There I am, behind the curtain, opening night for Last of the Red Hot Lovers.  About to walk out on the stage, feeling my character, I realize that while I am thinking about her (my) life, I have no idea what my opening line is – I'm blank.    I walk out on the stage and…  like magic, I'm there, experiencing, engaging, and responding.  It's a powerful and energizing moment of being present and leaning in to others to create a shared, yet intimate, experience.  What if that was the essence of leadership too?  
Acting has important lessons for every leader that doesn't want to play a part but instead create a meaningful legacy.  
Here are five lessons, that despite their simplicity, could transform your leadership.
Acting and Leadership Are About Being, Not Doing
My character was not someone separate from myself, but deeply connected to who I am.  Moreover, I didn't have a list of things my character would DO but instead centered on her way of being and the doing fell into place.  As a leader, when you are solely task-driven, you can quickly become disconnected from who you are at your core. Know what you believe, your core values, and your choices and leadership will flow with greater purpose and connection.
Don't Worry About What You Want to Say Next, Listen Now
It mattered that I knew my lines cold because then I could forget about what I wanted to say next and simply listen and respond.  Here's the scoop:  you're not listening if the only thing you hear is your own inner-dialog.  Let go and be present.  Your story will have more meaning and impact when it flows from your conversation than from a desire to look super-smart or witty.  I promise, what you need and want to say next will come to you, in the moment.
Be Responsive to Others, Not Reactive
We react to circumstances and are responsive to people.  You've been there; something happens and you react to it in a big way: cry, jump, scream, walk away, etc..  We see your internal experience through big external reaction.  In contrast, when we're responsive, we take a beat to acknowledge our feelings and the feelings of others and then respond.  Leading and acting in reactive mode are exhausting, filled with must-dos, tangled with incredible self-awareness of how others see us.  When we're responsive we're a part of the dance, subtly influencing outcomes and deeply present in the moment.
Find Your Truth and Speak It With Heart
An acting coach once told me that my monologue was great but she saw in my eyes something that betrayed my words – I needed to find a way to make my character's truth my own and speak it with heart. Leader or actor, the same lesson is true: If you don't believe it, nobody else will either.  If you only say what others want to hear, your leadership will be flat, duplicitous, and uninspiring.  When you speak the truth, you invite others to join you on the journey.
Make the Leap From Role to Embodiment
When leaders or actors are just playing a part, somehow it feels empty, disconnected.  We are not our roles, or titles, we are all people.  If you want to be a great leader or a great actor, be a human being and not a caricature of who you think others want you to be.  The secret to embodiment?  At heart, be you – bring your whole self and your unique experiences to your leadership and you'll no longer be playing a role but truly being a leader.
Leaders find themselves center stage all the time.   All eyes on every word, action and response.  Performances are judged daily and the critics are harsh.  Be a leader that leads with integrity, truth and humanity – one that you'd want follow, collaborate with and aspire to be.
What else would you add to help leaders make the leap from doing into being?   Share your tips and experience in the comments below.
Are you ready to make the leap?  For speaking, coaching or consulting, Let's Connect!