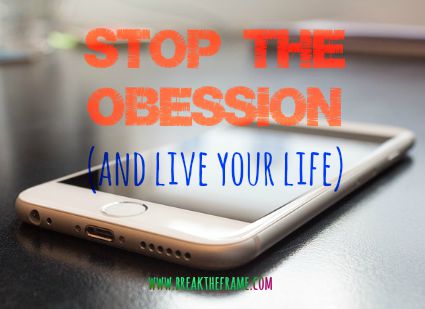 I'm on a Facebook hiatus, but, then again, Facebook has never been my go-to social networking site. I'm more of a Twitter fan, but that may be because I resisted Facebook like the plague and missed the "oh-my-gosh-it's-the-best-ever" boat. When the movie, The Social Network, was released at the end of 2010, I went to see it in the theater, but I would bet big money I was one of the few in the audience without a Facebook account.
By summer 2011, I took the plunge. I'd often like and comment on friend's posts from high school, college, and work with whom I'd lost touch. Not that we were ever really friends in real life, but I still saw their children, the divorces, and their holidays. In fact, I probably get more scoop on their lives through Facebook than if we caught up over coffee; not that if we saw each other in real life we'd even recognize each other.
[On an aside, I still don't understand the love letters and anniversary messages to people who are not on Facebook. "Just wanted to say how much I love you, so and so. You are the light of my life but oh yeah, you'll never see this because you're not on Facebook, so it's not really for you." I'd love to hear your insights on this in the comments.]
I've never been a big poster on Facebook, more of a lurker giving occasional glimpses into my life and work. Of course, then I started a business page, because that what I was supposed to do, right? Yes, organic reach was an immediate issue (another game for which I was super late) and one I found frustrating from the get-go. Hard to engage on a business page if hardly anyone sees your posts. Kind of like the proverbial tree falling in the forest.
Two months ago, I decided to go on a Facebook hiatus, not because of my business page or the silly posts in my stream, but because it had become my go-to source for a brain break. Actually, more like a billion brain breaks a day.
On the posting front, it also started to feel like work instead of fun. Come on, engaging with people should be a joy, not a must-do. The decision to go on hiatus was also easier because I was about to head out on vacation and had a lot of work to finish before I left. Moreover, I didn't want to schedule posts and not engage. Seemed to defeat the purpose of posting. 
I'm sure that there are a lot of marketers out there who will gasp when they read this post. Back off of Facebook? What?! If you're in that camp, don't sweat it. Honestly, I'm not suggesting that you give it up for good, just consider if you could benefit from a pause away from your Facebook obsession.
10 Reasons You Need a Facebook Hiatus – Stop the Madness! 
If you see yourself here, do yourself a favor, take a break. 
1) It's automatic.
Every time you take a two-second break from your work, your fingers magically go to your browser and start to type in faceb…
2) You are spending hours on Facebook instead of spending time with the people in your life.
Do you and your loved ones play dueling laptops on social networks at night more often than you play footsie?
3) You are constantly searching for new cat pics to post. 
Maybe not cats, but you're always looking for a new quote, article or picture because if you stop posting, people will forget about you. (not really)
4) It's work- no fun at all, not even a little bit.
You've created a marketing engine that's working for you, but the thrill is gone.  You don't look forward to engaging, you look forward to racking up the likes and feeding the social media and SEO gods. 
5) Sometimes when the likes come pouring in, it feels like the same thing as "I like you, I value you, you are a human being of worth."
I liked your post, your kids are cute at the swimming pool. It does not mean I think you are a better human being because you posted. I like you for many other reasons that I'm happy to tell you offline.
6) You are starting to feel like a loser or maybe a very competitive loser.
Your friends from HS haven't gained a pound, and it looks like most people you know are globetrotters while you're stuck home with a bag of Doritos. Lost in comparison hell, you feel the urge to get posting and show off, I mean share, your fabuloso life. (Guess what? Most of the time their lives look a heck of a lot like yours, they're just not putting it on Facebook.)
7) Stalker is not your middle name, and you want to keep it that way. 
People you haven't seen since elementary school going through all kinds of messiness makes you feel like a  rubbernecker looking at a car accident. Look away. 
8) You're sure you could never walk away from Facebook. 
Your business, your engagement, your connections are all on there. You NEED Facebook. Like now. In fact, forget vacation without a strong wi-fi connection.
9) The only thing you don't post is when you go to the bathroom. Other than that, it's all on there.
The world can somehow feels less lonely when you tell someone what you're doing. I get it. Still, no need to separate out meaning from minutiae, huh?
10) You can't go to sleep at night without checking in on Facebook. 
It just makes you feel better to know how all of your friends ended their day. Who needs their spouse? You just tell them to roll over. 
Personally, I'm staying on a Facebook hiatus until it's no longer my go-to distraction and my fingers no longer do the walking. 
Top 5 Things I've Learned from My Facebook Hiatus:
1) There are some people I miss because that was the primary way we connected. Like the inspiring Sharon Reed and Hoda Maloof. 
2) Most businesses in my town do not have websites, but they do have Facebook pages. If I want to know what's happening with the business, I need to go on Facebook.
3) Maybe I was doing it wrong, but the lack of action on my business page hasn't hurt my business. (Most of my real engagement was coming from my personal page.)
4) I like the ease of using Facebook to log into bazillions of other sites. If I close my account, that goes away too. 
5) I have plenty of other things to do besides scroll through my Facebook feed at a million miles an hour.
Break the Frame Challenge:
Walking away from something that has become an obsession can enable you to take a whole new view.
A client of mine was obsessed with potato chips. Seriously! For one week, she abstained and kept a journal of when she craved them most. At the end of the week she ate them again, but understood her triggers and was able to notice them instead of letting them control her; She tapped her personal power of choice instead of default behaviors.
Ready to get a real-deal picture of how you're engaging on Facebook? Is it a time filler or a must-do business builder? 
Go on a Facebook Hiatus.
Not for two months like I have, but for two days.
Be mindful of how often you're tempted to tap on the app or put it in your browser. 
What does it tell you? 
Notice what drives you to return… is it relationships, conversation, marketing or something else. A little boredom maybe? Habit?
The next time you log on, do it mindfully.
Set some parameters (like a block of time)
Break the habit and make a conscious choice.
PS. If I haven't responded to your message or post in a while, please don't take it personally. 
I'd love to hear from you. Are you addicted to Facebook? Could you benefit from a Facebook Hiatus?
Could you use some support to make a change? Let's talk. I can help.