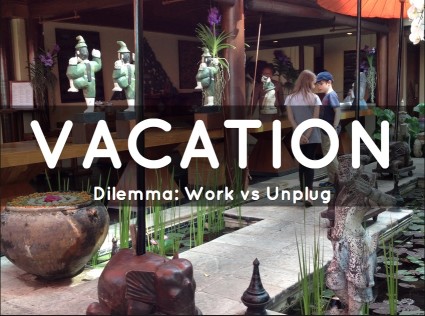 I started writing this while on vacation with my family. Before you roll your eyes that I struggled to let my blog go for almost a month, I think most people that go on extended vacations face the vacation dilemma.
Do I work or turn off completely?
Blog?
Be on Social Media?
Take a conference call?
Respond to an urgent email?
What about an email that isn't urgent but I know the answer and can help…
Before I left, I got a ton of advice both solicited and unsolicited on how to handle my break.  With my clients, it was straight-forward and our work is on hold during my time away.  At this point, work boiled down to blogging and social media.  People, and their holiday philosophy, ultimately fell into three different camps.
The Unplug Camp
Mantra: Vacation = No work.
Recommendation:  Just step away 100%.  Who cares that you'll be away for nearly a month?
Belief:  It can't be relaxing unless you disconnect entirely.
The Outsource Camp
Mantra: Looking present is more important than being present.
Recommendation:  Hit Fiverr hard and find a Social Media stand-in and maybe someone to respond to blog comments too.
Belief: It doesn't have to be you to still be Social.
The Get it All Done in Advance Camp
Mantra: Set it and forget it.
Recommendation: Write all of your posts in advance, schedule all of your tweets and you can step away while things hum along.
Belief: Humming is a one-way monologue, dialogue is unnecessary.
My Pre-Holiday Plan
I took in all of their well-intentioned advice and thought I had a plan that would work for me:
Mantra: Cut back, no need to turn off
Plan: 1) Cut blogging down to once a week 2) Stay present on Twitter but no Tweet Chats 3) Ignore Facebook (I admit, I'm not a huge fan so this one was easy)
Belief: I had to stay engaged or people would forget about me.  Even worse, what if it's like the last time I stopped exercising and never quite got back into the habit.
Welcome to Camp Reality
For my first few days I was having fun but still immersed in the pressure of a virtual presence.  My blog looked like the lights were on but I was rarely home; it didn't feel good. I didn't have posts in my back pocket and after a long day of touring and looking for inner peace that I had lost in the frenzy of my day-to-day life, blogging, well, wasn't going well.
I missed my first post in a year and a half.  Deep breath.  Life rolled on and so did the adventure.  I spent my days at Buddhist temples and my nights looking out over the water, cuddling with my kids and making eyes at my husband.  When I missed my second and third posts of the year, that was OK too because I was writing my story and the time wasn't right to put it on paper.
Funny, when the time came to make my own choices, and not just think about what I was going to do about work on vacation, it wasn't a dilemma at all.
I missed five posts in all and here's five things I learned:
I didn't know what I wanted to do until I was in it.
I'm happy I remained on Twitter because it was easy, fun, and relationship-focused.
I have learned about myself as a parent, woman, leader and a human while I was away and I now have even more to share.
What worked for someone else will not necessarily be the right answer for me (or you)
Vacations are a dilemma because we pack expectations, assumptions, roles and responsibilities in our bags with us.  It's time to lighten the load and do what feels right.
What's worked for you?  Are vacations a dilemma?
For coaching, consulting or speaking Let's Connect!