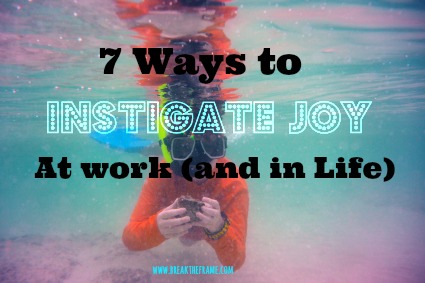 Our family has been lucky to travel to many interesting places since moving to Australia. This summer holiday we went to Fiji and the entire plane ride home, I contemplated why my children had tears running down their faces while begging to return to Savusavu.  What made this place so different from the others?
Then it hit me. 
The people who worked at the last stop on our Fijian adventure, the Jean Michel Cousteau Resort, had a joy and passion for living that came through in everything that they did.  Their joy was infectious and so genuine.  Yes, they were paid to do their jobs, but on a daily basis they made personal connections, forged relationships and enjoyed life. Truly, it transformed our stay from really great to remarkable. 
As a leader, you have a responsibility to set the tone for joy a work.  If you're confused how to instigate joy, it starts with you. 
Joy at Work (and in life):
You can't buy it.
You can't demand it.
You can't train for it.
You can welcome it. 
You can encourage it. 
You can live it.
1) Smile… a lot.  
Something amazing happens when you smile at someone, they smile back.  However, when a leader mandates smiling, it quickly becomes frozen and false. Nevertheless, there is even a gift in a fake-o-bako smile. Researchers have found that when you put on a fake smile it releases endorphins and serotonin. Good feelings invite joy.
2) Create the Space for Life Work Blend, not Balance.
Most people will spend 90,000 + hours at work over their lifetime.  Are you really willing to give up 10 years of your life for 24/7 drudgery?  Create a life where you are and bring your joy to work.  Start small!  Make friends, grab a coffee and for goodness sakes, leave your desk to grab a bite. 
3) Be Human.
When you meet someone new, they inspire you in new ways.  The best part is when you have exchanges that create a bond, not just a transaction. Be human and make a human connection. 
4) Be Welcoming.
See someone walking towards you? Wave. Say hello. If you know their name, use it. People want to be around people who want to be around people. You don't have to be extroverted to be welcoming. 
5) Laugh. 
You can take your work seriously while also bringing a sense of play to all you do.  You messed up? Laugh. Someone tells a joke? Laugh.  According to the Mayo Clinic, laughter is a fantastic stress reliever and improves both your physical and mental health. 
6) Be Curious and Discover the Beauty Around You.
The people who worked on the resort in Savusavu walked down the beach and would stop to show you a large hermit crab or blue starfish.  They've walked by those things a million times, but sharing the wonder and beauty of nature made joy multiply. 
7) Talk to Strangers.
This advice may not be good for your children, but it's good for you.  Life and work are more joyful when you experience it with others. People are only strangers until you make them friends. 
My family and I decided we'd travel every school holiday, but we would resist the temptation to go to the same place twice. There are more oceans to discover and people to meet, but I'm certain we'll be back to the Cousteau Resort.  We won't return because of the food, rooms, kids club or swimming pool… 
I asked almost everyone I met "How long have you worked here?" and I didn't meet anyone who said less than five years and some were closer to twenty.  It's incredible to think that when we return someday that we'll hug the people who were once simply resort employees and are now a part of the fabric of our lives.
Your turn to Break the Frame and Instigate Joy:
The employees at the resort instigate joy in others because they allow themselves to be joyful (and their leadership team believes in the power of joy).  It's that simple. 
Ask Yourself:
What do you need to let go of that's blocking joy?
What do you need to be open to welcoming in your life and work?
Where are you stopping short of stepping into more joy?
How do you instigate joy in your life and work?
For coaching, consulting or speaking Let's Connect!