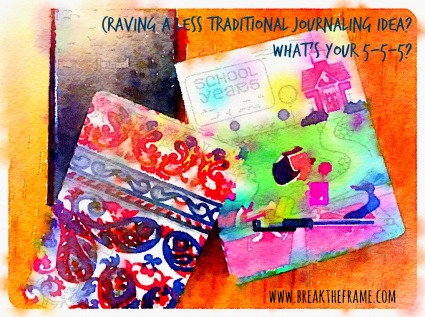 There are tons of fans of journaling out there and you may be one of them.  I've tried, don't get me wrong, but I just can't get into it.  We're supposed to journal, right? Ask most personal development gurus and journaling is touted as a way to tap into your hopes, fears and dreams and figure out the way forward.  I've read a million posts on journaling ideas and how-to, and I've left unmotivated.  Despite my desire to be a journaling aficionado, it's clearly not going to happen and I've made peace with it.
I've had a series of journal fails over the years.  Each time I believed that this time my commitment would take me over the hurdle, past my roadblocks and onto a path of journaling bliss.
I bought a special journal to capture my children's early years through sixth grade.  My oldest is now 11 and I think I may have documented how I felt about her first days of preschool, but probably not.
There was the time I couldn't resist a gorgeous journal of handmade paper with a vibrant cover made out of an old scarf.  I brought it on vacation with me once and kept a beautiful log of our adventures, but lost steam upon my return home, and never went deeper than documenting facts.
A few years later I picked it up my colorful, handmade treasure again to write about my pregnancy.  I think you will not be surprised that after one or two attempts, I moved it from off of my bedside back to the bookshelf to look beautiful while it gathered dust.
I even brought journals with me when I moved from the USA to Australia two years ago.  I figured, if there was ever a time to tap into the power of journaling, this was it!  You can guess by now how that decision played out.
Journaling felt boring, and time consuming (I know, a coach should never say that).  I always felt like if I had the choice, I'd rather do something else.  Why do I want to replay all of the crap from my day on paper, I wondered.  After all, it was playing like a broken record in my head – I heard it loud and clear.  What I felt like I really needed wasn't to replay my daily agony as I furiously wrote my heart out, but to see the goodness and let go of the rest – so I could rest! 
I always thought of journaling like a "Dear Diary" moment and even when I was growing up, in the throes of my teenage angst, it wasn't my thing.  It doesn't mean that over the years I didn't want to be someone who journals. I always think of people who journal as more Zen, in touch with their inner feelings, and on the path of enlightenment.  Luckily, I've discovered a few alternative paths to get there since I still don't journal, but I definitely do my 5-5-5… and have gotten most of my clients hooked along the way.  It may not be a traditional approach, but it's a journaling idea that I strongly encourage you to add to your arsenal.
Journaling:  The Bullet Point Approach – What's your 5-5-5?
I grew up working inside of organizations and eventually, for better or worse, I started to think in terms of bullet points.  Short and to the point, bullets were easy when long descriptions could quickly take me down a black hole.
Here's how you can put the Bullet Point Approach to journaling to work for you:
At the end of every day, spend five minutes on your 5-5-5.  It's easy!  While you're sitting on the couch or in bed, grab your computer, iPad, notebook or (gasp!) journal and write down the following:
5 Personal Wins
5 Points of Gratitude
5 Work Wins
Do not over think it, just bullet them out.
Clearly, this was born out of my desire to let go and shift my perspective from the stressful negative moments of the day and turn towards the positive light.  It's meant to help you to hit your pillow each night with a positive feeling about the day, tap into gratitude, and let go of the bad stuff that's obscuring your vision of the good.  All it takes is five minutes of focus on your 5-5-5.
Here's an example:
5 Personal Wins:
Took a walk at lunch
No arguing with the kids over breakfast
Got all of the laundry done
Had a great call with Jane
Closed my computer to cuddle instead of multi-tasking
5 Points of Gratitude:
My sister sent pictures of her kids enjoying their birthday presents
A good bottle of wine was waiting for me after work
My venti skinny vanilla latte was delish
My son left me a surprise in my workspace
I made it to the dry cleaner to get my stuff before they closed for the day
5 Work Wins:
My course works as designed!
I listened to the feedback and made some great updates
Was engaged and focused throughout the day
Feel excited about my next project
Remained calm when my buttons were pushed
The Bullet Point Approach to journaling is a way to pull yourself into a more positive mindset when you're tempted to stay stuck in the problems and challenges of everyday life.
Hey – if you're someone who journals, keep it up!!  You may also want to spice it up by adding the Bullet Point Approach and your 5-5-5 to your journaling routine.
What is your 5-5-5 for today?
For coaching, consulting or speaking Let's Connect!