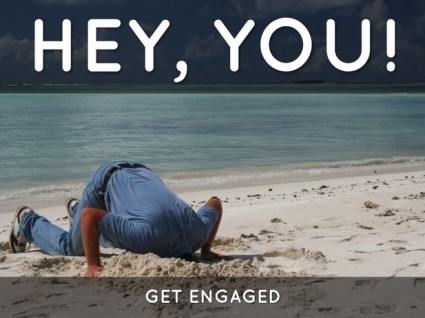 I'm helping my brother plan his honeymoon because I love travel and actually enjoy doing the digging to find exotic places for great prices.  Maybe I missed my calling as a travel agent, but I vicariously feed my passion for travel every time I plan a trip for family members.
Here's what I'm running into:
Where I would go and stay in Europe on my honeymoon does not necessarily match up with their travel philosophy
Limited budget
Moving target of the exact time that they will go on their trip
They have focused on Spain and I see the whole world as possibilities
Everyone, and their grandmother, has ideas about what's the best choice
I feel like I've run into similar circumstances at work time and again over the years.
Sound familiar?
Your idea falls on deaf ears because minds are already made up on the one and only path to success
Time and money are shorter than your creativity and innovative solutions
Go-live is a target that moves over and over due to organizational "happenings" that are often out of your control
Opinions are everywhere with few real solutions behind them
Faced with challenge after challenge, it's tempting to disengage, go through the motions, get through the work at hand, and move on to the next big thing.  Personally, I have to admit that at times, instead of stepping up as a leader, I've been tempted to step out and disengage, but then I remember, it's not about me.
Leadership is more than being skilled at driving outcomes, it requires leaders at all levels to engage and bring the team with them on the journey. 
Leading for the sake of "getting it done" and "achieving the vision" are far different experiences for both the individual leaders and their team.  Pushing actions and solutions, without concern for employee engagement, reduces work to a series of soulless checklists.
It doesn't matter if you're the formal leader, as long as you have a desire to collaborate and create exceptional outcomes, you are a leader right where you are.  The key is to never forget that you're a part of the team (just one member, one voice!) and your personal leadership and engagement should move things forward, not cause apathy, riffs or setbacks. 
Three ways to positively step up your personal leadership & engagement:
Do Your Homework
Instead of rushing to chime in with your great blue-sky ideas, do a little homework to see if they are remotely viable.  Talk to some other people to get their input and suggestion and do a little digging on resources that can potentially help turn your idea into reality.  A little homework will give you, and your idea, some credibility beyond the initial flash of brilliance.
Speak Up
Share your thoughts and ideas instead of simply complaining to others that you disagree with the approach.  Grumbling never eases the way to positive outcomes.  More importantly, your idea will never move forward if you never speak it aloud.  Speak up to give the team a chance to hear and see possibilities that they may otherwise miss.
Let Go
So, you did your homework, shared your ideas and they're still a no-go?  Let it go.  The goal is not to have it be your way all the time, but instead for you to be an engaged player, in the game, instead of a bystander.  Instead of wishing for what could have been, commit to move forward with the team, reconnect with the vision, and be a leader down the chosen path.  The letting go actually frees you up to fully invest yourself ~ it's like a deep breath.  Try it.
For my brother, I need to remember why I want to help instead of focusing on the minutia of location, hotel, transportation and sites.  His "why" is to celebrate their marriage and that can be done many different ways.  At work, you also need to remember that the "why" is the bigger desired outcome and to focus on the vision as much as the path.
Remember a time that you wanted to help but instead, unintentionally, ended up being the bully because you could not let go?  What did you learn from that experience?  Tell us about it in the comments below.