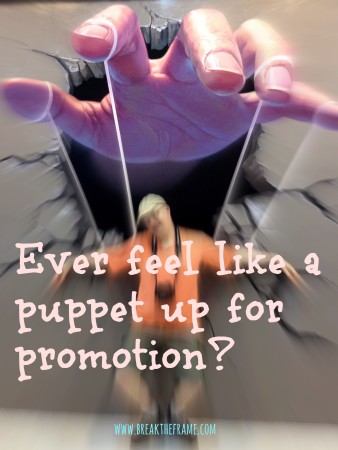 My phone rang and it was one of my clients urgently trying to get in touch with me:
"I have a problem," my client, Perry, opened, "they want to promote me."
Huh?
For many people I work with that's a goal, not a problem.  I dug in to find out more.
"I love my job and I love my team… do they want me to leave?  I'm not a leader…"
Whoa
There is a lot of pressure and expectation tied up in the word "leader."
I firmly believe that it's OK to not want to move to the next level if you love the work that you're doing today.  I've met and coached many people who are miserable once promoted because they long for the days that they could just be heads down and get sh-t done instead of leading and inspiring others to do and be their best. For them, it's emotionally draining to lead a team.
Back to Perry, my "whoa" came because others, like him, get their energy from the team and spend all of their discretionary time focused on shared success. I was confused as to why he wasn't excited about being recognized for his personal leadership with a formal title and promotion.
I began to dig in and ask some critical questions:
What do you most love about your job now?
What are you most afraid will change with promotion?
Why you?
If you have a new title, how will that change how you interact with the team?
How will it change you?
I listened, asked clarifying questions and we unpacked two things:
Fear of change
Fear of staying the same
A new title can formalize the informal leadership role that you're already playing or it can dump a truckload of admin on your plate.  My client, Perry, didn't fully understand his new scope of responsibilities but made some big assumptions about his new role and it was overwhelming.
Facing Fear
Perry needed to figure out how to move forward in the face of fear.  A great place to start was realizing that he had a choice.  When Perry fully embraced that the new position was his choice, nobody was forcing the promotion on him, he was able to get in front of his fear and in control.
For a moment, in his stress, it was as if he was in a tug of war, one arm being pulled into an unknown future and one arm fighting to stay in today's reality.  The pulling was overwhelming and painful creating unbearable amounts of stress and little focus. To move forward, he had to release the tension and  fear to see a fresh perspective.  I invited him to take a step UP… to 10,000 feet above his current quandary.  We stepped out of the language of fear that was pulling on him and took a deep breath to uncover some new truths without the pressure of "will you or won't you?"
Truths
We ended our emergency conversation with a deep breath and some newly uncovered truths:
You are a leader NOW because you're driven to serve your team and enable their success.
You are a leader TODAY because you truly believe that leadership is about your team, not you.
You are a leader in THIS MOMENT because you care enough to be concerned that your new title creates ripples of change.
You are READY because you have a leader's heart (as well as exceptional skills).
You are READY because you are already leading.
You are READY because your team and your organization need you.  Not someone, not a butt in the seat, YOU.
Letting go of the comfort zone to leap into the unknown is a challenge.  How have you successfully made the leap from where you are to a new role, title, or organization?
For coaching, consulting or speaking Let's Connect!