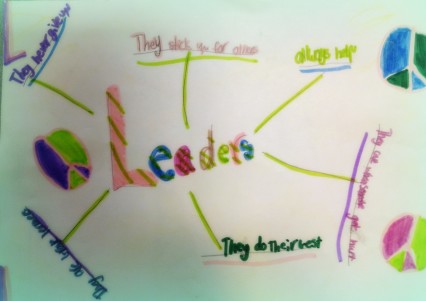 There are a lot of leadership writers, gurus, consultants and coaches out there but sometimes it feels like we're making leadership so complex that it's impossible to be a great leader.  How many posts have you seen that sound like this:
30 Must Do's For Every Leader
Top 10 Rules to Amp Up  Your Leadership
So You Want To Be  a Leader?  Start with these 50 Tips and Tricks
Ugh.
It's Spring Break here in Australia and I thought what better way to simplify leadership than ask someone who feels it in their heart, and knows it when they see it – my daughter.  She's 10 years old and here's what she has to say about leadership.
What is a Leader?
A leader is a person who is brave with their learning.  They are always learning new things and taking risks.  If something is easy for them, they want to make it harder so they can learn more.
A leader never says you can't play to others.  Everyone is included, not just three best friends; everyone.
You're not a leader just because you get the most votes for Student Council.  You still need to listen to other people and not just say what you think, but ask and share what others think too.
What Does a Leader Do?
When a leader is done their work, they come around and help others to do theirs.  They want to make sure other people understand what they're doing too.
Leaders are kind to other people because other people matter, not just themselves.
The leader is not the most important, we're all important.  Leaders don't act like they are the only ones that are important.  Leaders let other people say their opinion and decide together.
Decisions can be good for everyone, not just for one.  (Click to Tweet)
Why Do Leaders Matter?
Leaders are important to the world because it's important to help other people and even more, they can make the earth a better place when they do what's right for everyone.
Leaders show us what it looks like to always do their best.  They don't always have to get "A's" but they do need to try their hardest.  They don't give up!
Instead of just getting their work done and going to recess without caring for the people who are left behind, they help others get their work done too so everyone can enjoy recess together.
Leaders help other people who are hurt because their pain makes them sad too.  Leaders care.
Can Anyone Be  a Leader?
Yes.  Everyone can be a leader, not just you or me.  You  have to listen when other people are talking and give others a chance to speak.  You also need to be helpful not only because someone asks you to be, but also because you want to be helpful.  Most of all, you need to care about what you do and make good choices.
Leaders have really big hearts, they do more than tell you what to do, they love you too.
What's Your Advice for Leaders?
Let other people join in!   Stand up for other people and for what's right.  Don't be afraid – step up.
I think she's spot on (not that I'm biased).  What about you… what do you think makes a leader?
For coaching, consulting or speaking Let's Connect!