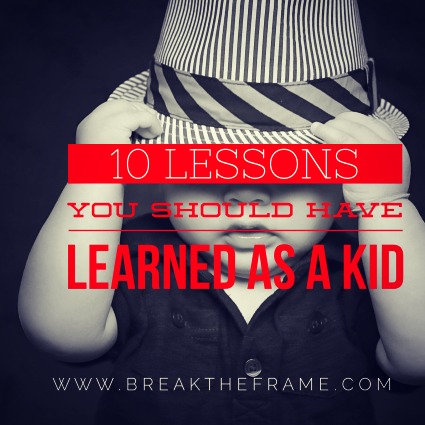 It's school holiday time in Australia, and for the first time in a long time our family decided to stay in town. No big events planned, my kids are simply hanging out (and I'm trying to squeeze in some work). 
Watching them play and interact with their friends makes me think about who they're becoming – who'll they'll be when they grow up. Oh, and notice I didn't say what they'll be when they grow up. This isn't about their future income potential, title or career success when you're talking about an 11-year-old… we're talking life success. You know, happy, healthy, self-aware and other-aware. The stuff that matters. 
I could write an entire blog post about my little angels… but I'd be lying. This morning we yelled at each other at least five times between breakfast and lunch. 
Clean your room!
Not now!
Teeth! Now!
Later!
Where did this (insert whatever toy or wrapper you want) come from?
It's not mine! I didn't leave it there!
Enough tech time!
I'm playing!
UGH. 
As I try to raise good children it hit me – I'm trying to raise future good adults. Adults who respect others, work hard, are persistent, resilient, passionate, welcoming, confident, creative… Yes, I know that I can only do so much and the rest is up to them. I also know that raising my voice only makes my message louder, not more impactful. 
When I look around the places I've worked, I've seen more than a few adults who missed some of the key lessons they should have learned as a kid. They moved from being terrors on the play yard to jerks in the office. 
10 Life and Leadership Lessons You Should Have Learned as a Kid
Name Calling Never Makes Friends
Believe it or not, putting others down and calling them names still happens at work. "What, are you stupid?" "You're an idiot." Want to lose respect fast and have people run to work somewhere new? Keep it up. 
Not Every Opinion You Have Should Be Shared
There's this thought that if you're in charge, things have to be done your way. Clearly, it's the best way. Right? Wrong. 
Pick Your Battles
Always fighting, even over the small stuff, means that when the big stuff comes along, you've watered down your leadership. 
Boss Doesn't Mean Better
In a recent workshop I ran for primary school leaders, a few told me they were chosen because they're better than their peers. No, they represent their peers and are responsible for leading – not better. 
You Get What You Get, and You Don't Get Upset
There are people who can get the best out of two toothpicks and a ball of twine and others who freak out when they're dealt 99% of what they wanted. Deep breath. Disappointment happens. You can't lose control of your emotions and do your best to move forward at the same time.
Temper Tantrums Won't Get You What You Want
It's one thing when a kid throws a temper tantrum, but if you've ever been behind the closed door while an adult does it, it's scary. Should also mention, most doors are not sound proof. 
Not Everyone Will Like You
This is a tough one to learn. No matter what you do and how much you want to be liked, not everyone will. It's okay. Surround yourself with the people who do. 
One Bad Thing Doesn't Make a Bad Day
Ever let one bad moment define your day? No matter what good follows, it's invisible because all you can see is the bad thing. Choose to have a better day tomorrow. Your attitude creates your experience. 
When You Fall Down, Get Back Up
Kids trip and fall all the time. They don't lay there and decide they'll never go back to class or can never face their friends again. Stand up, brush off, keep going.
You Won't Always Win 
Some kids are spared hurt feelings at every turn and never learn what it's like to lose. Conversely, they never really learn what it means to win – or what it takes. People who learn to lose with grace, without telling themselves that they're a loser, are the ultimate winners in life.  
The list goes on and on… It was tough picking only ten lessons that adults should have learned as a kid. Here are five more to consider:
There are consequences to your actions

Unfortunately, not everything is the fun stuff – do it anyway

People won't clean up your mess for you

The learning never stops
What would you add?
The question we're left with is: Is it too late for you and me? 
If you have bad personal leadership practices, can you realistically change them now? The answer is an emphatic "YES!" However, here are a few things that have to happen first.
Recognize the need to change. Truly. Be honest with yourself.
Enlist support to shift from your current way of leading and way of being to a new, more effective approach.
Acknowledge that it won't be easy and you will have setbacks.
Hold yourself accountable to make the leap.
Continue to reassess your progress and continue down the path of change.
What are the biggest lessons you learned as a kid?
What do you teach your children? 
Would love to hear your thoughts.