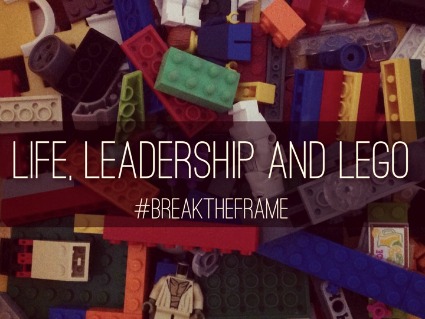 I work with people who feel stuck and want to break the frames that are holding them back. Recently, I've been playing with ways to look at those frames and use what's present to create a new world view.  Sitting in my home office, I was looking at my walls and files and noticed a random group of LEGO bricks under a nearby chair.  I began to play with a thought: Where is the intersection among life, leadership and LEGO?
If you ever come to visit my house, be sure to keep your shoes on to avoid the pain of stepping on a LEGO piece that's lurking on the family room floor or under the table or even, occasionally, in the bathroom. My son loves LEGO and I'm fairly certain that we have enough blocks to recreate the entire LEGO Movie.
His obsession started before he even started Preschool with only a box of blocks and his imagination.  That was all it took to create worlds filled with exciting characters and possibilities.  However, in the past few years, LEGO has become more about the ability to follow directions than bringing a personal vision to life. Blocks now come in coded plastic bags with direction booklets that would make IKEA proud. While he loves every one of his Star Wars structures, I'm saddened that they teach him that a block can only fit in one location.
Recently, he's been going "old school" making boats and buildings that didn't come with a step by step guide.  He's learning to repurpose pieces and find new ways of using blocks that formerly only had a single use.  Watching him play, I built on my earlier question linking life, leadership and LEGO and wondered how many adults don't realize that they too can take apart their experience, like LEGO, to build something new?
Not long ago I was working with my client, Meg.  She was telling me how she really wants a new job, but feels incredibly limited because while she has been working in HR for nearly two decades, she only has a finite set of skills.  The way I see it, she built a LEGO structure with her knowledge, skills and experiences and began to believe that all she could build from her blocks was "HR Director."  I helped her to take the bricks apart and using her values and vision as a new guide, put them back together to create an entirely new creation.  The blocks were the same, the way they fit together to tell a story had shifted and she was finally free to turn her "HR Director" structure into "Professor," teaching at a local college.
Time to Play!  Let's Look at Your Life, Leadership and LEGO
How can you deconstruct the LEGO structures in your life and leadership to build something new?  Grab a pile of sticky notes and lets get started!
Start with Values
Imagine your values as the long flat pieces at the base of anything you build.  Your values fortify you and without them, every block you place will be precarious at best.  If you aren't sure what your values are, start by asking yourself these six questions to uncover values.
Build on Your Gifts
Think gifts, not only skills.  Meg lit up when she talked to me about how she felt when she got a note from an employee thanking her for taking the time to really listen.  Her previously overlooked building blocks of listening, curiosity and coaching are now front and center in her new LEGO masterpiece.
Connect with Your Passion
You'll often hear the advice to follow your passion, but no matter where you are or what you do, you can bring your passion with you.  Meg dreaded the amount of time she was doing admin and resented how little time she was able to be out in the field, connecting with employees.  We spent some time reflecting on what is it about being in the field and connecting that matters?  What does it stir inside of her?  Why can't she get that same feeling on the phone behind her desk?  When you bring your passion with you, commitment and joy and shine through in all you do.
Start Building 
It may be tempting to fire up Word on your computer and pour all of your energy into revamping your resume.  I'd like to suggest that you back off of your resume, and turn to one of my favorite tools, sticky notes.  Write down your gifts, passions and values, one on each note, and find a blank wall to begin to play.  When you see themes that fit together… move the notes.  Don't like the picture that's taking shape?  Move them again to create a new pattern and a new view of who you are.
Your life brought you to this moment.  Instead of being confined by the set of blocks you think you have at your disposal, dig deeper to discover new colors, new configurations and new possibilities.  You're never stuck when you're playing LEGO…
What hidden pieces are at your disposal that you need to bring out to play?
If you're ready to discover some new blocks in your life and leadership and get unstuck, you'll love the eCourse: Get Unstuck and Choose to Move.