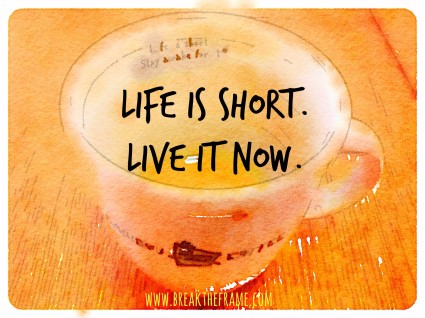 My son was sick this week and out of school.  That meant not only did I struggle to get much work done, but also constant movies on the TV, playing multiplication games on iPad, reading books, and relaxing together.  In the late mornings, I drank coffee while he had hot tea out of one of my favorite mugs.  The rim says "Life is short. Stay awake for it."
He read the mug with his first sip, looked at me and asked why it would say life is short when it's so long?  We have at least another 70, 80, 100 years!  I told him that he does, he's eight after all, but I don't.  Life is too short and we have to make the most of the time we have.  He looked at me and cried.  He doesn't want our adventures to end and neither do I.  Gee, I'm a great Mom.
The truth is, we don't have forever. 
Nobody knows when their last breath will come, in one month, one year, one hundred years or more likely somewhere in between.  We can't plan for the end, but we also need to stop waiting for the perfect moment to start living.  Life is short and our time is now.  That's all we've really got.
Ask yourself, are you embracing your excuses or creating the life you want with intention and determination?
If you're one of the bazillion people that have bought into your excuses, read on and get ready to make the leap you most want and need to make, starting now.
What's Stopping You?
You know that dream you've been sitting on, well, forever?  It's time to figure out what's stopping you.
Maybe your dream is world travel or a promotion or starting your own business or writing a book.  Diverse dreams mysteriously have similar excuses.  What's yours?
Is it fear that you're not ready?  Not good enough?
Is it that you have no time because your days are filled with activities that keep you busy but uninspired?
Is it money?  Many dreams take funds that may not be simply sitting in the ol' bank account.
It's impossible conquer what you don't see and can't express.  Now is the perfect time to understand your personal barriers, but don't stop at the surface.  Be vulnerable and dig deep with a trusted friend, spouse, coach or mentor.  Write it all down and then say it out loud.  Is it an unchangeable truth or a story?  Only you know the answer.
What do you most want?
I always thought I wanted a big career with a big title and you know what?  I had that and I wasn't fulfilled.  Turns out that what I most want is more tied to my values than prestige and my bank account.
I want adventure, moments I'll remember forever with my family, to be creative, joyful, playful, make a big difference in people's lives, even in small ways, to inspire others to create the life that they most want.
Take out the pen again.  Start to write your list of what you most want.  It's OK to start with tangibles, like a car that isn't always in the shop or a house with room for your hobbies, but once again, dig deeper.
Now, back to what's stopping you… caught in the cycle?  You can choose to break free.
Life is short, live it now.  You can't know if next week is too late to get started and you've got today.  Why wait?
Are you willing to commit to one thing you can do today that will move you closer to your dream?  Will you be brave enough to write it in the comments?  I hope so.  
For coaching, consulting or speaking Let's Connect!