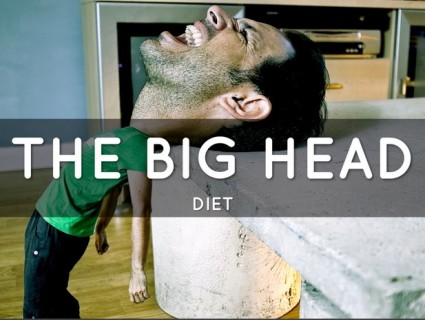 The best leaders engage people not only with their stunningly smart ideas and heroic experiences but also, and quite simply, showing up as who they are.  Unfortunately, for many leaders, the "who" is buried under years of reinforcement from poor role models that push the overuse of leadership muscles that are seriously outdated.
Do you:
Decide on a course of action prior to brainstorming sessions and work to manipulate the discussion to support your desired outcomes?
Believe that all hands meetings are not the right time for impromptu Q&A but instead are only for getting information out to the masses.
Notice that none of the ideas thrown out in brainstorming are as good as your own?
Call people out in meetings because you are a strong supporter of open dialog and don't believe in the need for closed doors?
Keep the strategic work for yourself and delegate only the operational pieces to others?
If you found yourself nodding along, you may be bloated and fat with self-important ideas about leadership and it's time for a big-time diet.
How do you shrink your big head and grow your leadership heart?  Follow this leadership diet:
SWAP: Fako-Bako Listening for Being Open Minded
Truth: You're not really listening if you already know what you want to say and are checking your emails as you nod and say "uh huh" while actually waiting for a break the conversation to jump in with the answers.  That's Fako-Bako listening; it looks like you're listening but you don't need to hear a word to share your response.  Open-minded listening requires you to truly listen to what the other person has to say without the constant focus on your own internal dialog.
How To:  Ask questions, listen, reflect, playback, learn and hopefully co-create solutions.
REPLACE: One Way Communication with Conversation
Communication is an important leadership tool that helps to keep everyone on the same path towards the shared vision and mission.  However, communicating out, without an opening for conversation, gives the impression that leadership (and smarts) only comes from the top.  Instead of  spending time crafting and worrying about messaging, throw messaging out the door and opt for conversation.
How To: If you don't know the answer to a question that's asked, or it's not the right time to share, just say it and make a commitment to circle back with more information in the near future.
TOSS: Insensitivity in the Name of Honesty
A desire for an open work environment, where there are no secrets, is not an excuse to chastise someone in front of their peers.  You can't build trust or team spirit if there is fear of being publicly called out for ideas or motivations.  People will quickly start to play small and safe and that does not benefit the individual, team or organization.
How To:  If you have negative feedback for someone, talk to them in private and in support of their growth and development.
MOVE MORE: Off of Your Plate
Ever wonder why you're working 12+ hours every day and many people on your team leave well before you even think about going home for dinner?  You're hoarding the work.  News flash: You have smart, driven, passionate people on your team, tap into them!
How To: Delegate!  Give other people a chance to stretch into their own leadership by empowering them to run with strategic initiatives while you remain involved as their advocate, supporter, mentor and personal road-block remover.
INCREASE: Your Intake of Ideas
Despite your diverse and significant career experience, never forget that leaders that stop learning, stop leading.  Diversity of thought takes the power of one and multiplies it exponentially.
How To: Read books and blogs.  Attend conferences for networking and attend diverse sessions.  Most importantly, talk to people, ask questions and always be curious.
DECREASE: The Number of Meetings You Attend
How are you supposed to collaborate with people on your teams, get any work done or have time to think if your day is filled with back-to-back meetings?
How To: Pick one or two regular meetings and ask someone else to attend the meeting and be the voice of the team.  Keep the time blocked on your calendar to avoid another meeting slotting in its place.
CELEBRATE: People, Milestones, and Small Wins
Leadership is not just about accomplishing big things… it's accomplishing big things together.
How To: Celebrate people and progress to keep up momentum and build engagement.  Hint: "Thank you" goes a long way.
Today's organization has leaders at all levels that are willing to speak up AND listen, spark thinking AND empower others to follow-through, inform AND engage, manage AND lead.  What about you?  Is it time for a diet with a little more AND, and a lot less OR?
Anything else you'd add to this diet plan for leaders that want to be and do their best?  Please share in the comments below.