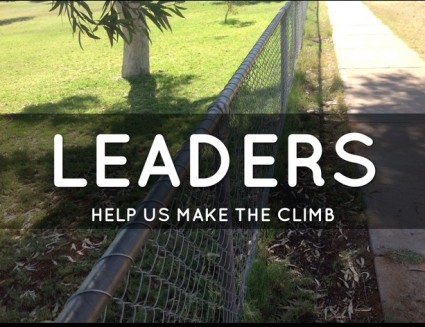 I'm definitely one of "those Moms."  I make my kids crazy because I'm always worried that they will get hurt if they climb to the top of the play structure, jump over a fence or roughhouse too much in the pool.  "Don't do that! Stop it!  What are you thinking?!" comes out of my mouth far too often.  Luckily, I recognize that and I am working on giving my kids the space to grow, make mistakes and learn without a mom-intervention.
As I dropped my kids off at school the other day, I noticed a moment between a Dad and his young son.  His son was half way over the fence that goes around the school and instead of growling "Get down!" he said: "Don't worry, I won't let you fall.  Take my hand.  You can do this."  Why would a parent help their young child climb the fence instead of immediately getting them off of it?  After all, it's bad form to climb fences at school.  I noodled this thought for the rest of the day… and then it hit me.
We help our children grow their confidence, competence and creativity every time we let them explore, try and stretch.  We, their parents, are helping our kids become future leaders by modeling leadership. 
Of course, at work, most leaders are not working with their children but they can encourage, support and love their people enough to let them to grow too. Modeling leadership grows future leaders because we are no longer dictating, we're empowering others to step up into their personal leadership.  The best leaders have mastered the art of being present and letting go.  It's not a sign they don't care, it's letting go of control in favor of helping others gain control over their lives, choices and actions.
Leaders let their people make the climb because they believe that they can do it… and fully know that they can survive a fall, get up, and try again. 

I've Got You
It's scary when we feel like we're caught at the top of the fence all on our own.  We're up so high all we can think about is how much the fall will hurt.  I've worked for leaders that said that they had my back, and they didn't behind closed doors.  I've also worked for leaders that defended my every action even if it's not the one that they would have personally taken because they we're 100% on my side.
Ask yourself: How do you show up 100% for your people at work, in your family or in the community?
Leaders believe that we're in it together.  You fall, I fall. You succeed, we succeed.  (Click to Tweet)

Take My Hand
Climbing the fence may feel impossible, but when someone's hand reaches out to us to help, we suddenly realize that we are stronger together and can make the leap.  Working late, tough challenges, even crises feel more do-able when we're not alone.  You don't have to be the boss to extend your hand, by the way.  Be the friend, mentor, colleague, parent, sibling that makes a difference by offering support and being present.
Ask yourself:  When was the last time you saw someone struggling and chose to look away thinking "not my problem?"
Leaders extend their hand every time they ask "How can I help?"
Leaders extend their hand through scheduled 1x1s with their team members
Leaders extend their hand when mentoring and coaching is a priority
Leaders extend their hand when they are on our side in words and action
Leaders extend their hand and show us that they care about who we are and not only what we do
You've Got This
There comes a time when the books, suggestions and methodologies that we've learned for years melt into the background as we learn to own the learning and take responsibility our experience.  My kids can climb to the top of the play structure because they've already mastered getting there halfway.  I can't airlift them to the top to make it easier on them.  They have learned how and it's up to them to take it further, not me.  Part of the joy is in the journey – if I'm always doing and deciding for them, it becomes my journey, not theirs.
It's not enough that someone tells you "you've got this!"  You've got to believe it too. (Click to Tweet)
Our kids become leaders when we give them the knowledge and let them make choices.  The same holds true for the people on our teams.  Mentors, coaches and other leaders, talking us through the steps to get to the other side, help immensely but it's up to each one of us to own it and ultimately make the leap.
Ask yourself: When do you step in and when do you stay out to let people move from learning to leading?
Every time we overcome an obstacle, we're putting money in the confidence bank to help us tackle the next one. (Click to Tweet)
That little boy, learning to climb a fence, will likely never remember that moment in time – his first climb.  However, he will likely remember the feeling of what it was like to doubt that he could make it over safely only to learn that by calling forth his courage, he had what it would take all along.
How do you help people successfully make the leap over the many fences that they come across every day? What does modeling leadership mean to you?
For coaching, consulting or speaking Let's Connect!