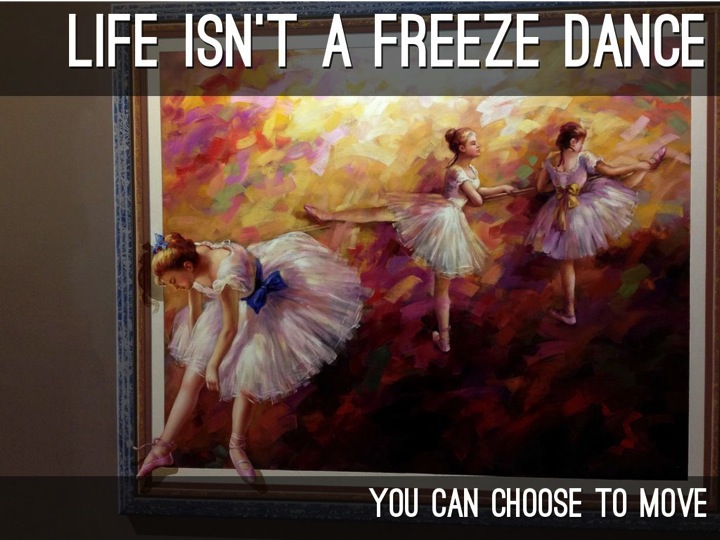 Do you remember playing Freeze Dance when you were a kid?  You know, music played, you danced and suddenly, unexpectedly it would stop, and you'd freeze.  Stop, start, freeze, move, like a rhythm you were trying to outsmart, you'd try to be the last person standing without flinching in the freeze.  In life, most of us struggle at one time or another to get unstuck, but when playing Freeze Dance with focus and commitment, you'd try your hardest to get stuck in one place, knowing that the music would free you again.
There are many different approaches to this game.  What was yours?
Go all out, flailing and freezing in the funniest, most uncomfortable position possible?
Hardly moving to the beat so when it stopped, you'd be ready?
Dancing with a partner and swinging so hard, stopping wasn't an option?
Avoiding eye contact with the judge as if that would stop them from seeing your arms and legs shaking?
No matter your style, if you didn't learn to freeze on a dime, you were out of the game.  For some of us, it's a lesson that we learned all too well.  I see a lot of grown ups in my practice playing freeze dance with their life, leadership and business.  They're moving and grooving and FREEZE – they've stopped and it's as if they're waiting for the music to magically restart, giving them permission to keep moving, keep trying and keep growing.
I'm not going to lie, I've been there.  I said I want to take my business to the next level, but made excuses about why it's not the right time.  I decided I wanted to get really fit, but still didn't make it all the way to the gym because I was too busy.  I've been unsure about moving to a new job, new country and new house.  I've been frozen, but eventually did the most freeing thing EVER.  I leaped. 
Truthfully, when frozen, and deeply stuck, the longer you stand still, the harder it is to move.  You worry that you'll move to soon, before they music starts, and be OUT.  You worry that you'll move too fast, unable to control the velocity of change, and you'll be OUT.  You worry and it keeps you stuck.  Again, I know because it's a human experience, and one we share.
You don't have to be stuck.  You can choose to move even when you feel like you don't know where, when or how.
Start with these three powerful ways to get unstuck and into action:
Don't Wait until You've Got It All Figured Out
More than ever, in todays world, it feels like there is incredible pressure to not only know your next move, but also your next 50.  Go back to the freeze dance… it wasn't choreographed, you didn't know what was next, you felt the music and moved, you had fun, you laughed and played and danced.  Telling yourself that you need to have it all figured out to get unstuck?  It's time for another ending to your story.  Nobody has ever had a 50 step plan and discovered that there were not shifts and turns and a heavy dose of the unexpected.  Call on your confidence and courage to move, and trust that you can and will thrive through ambiguity.
Put Yourself on the Hook
When you decide to take the critical first step, make it hard to wriggle out of taking action.  There is a gap between deciding and doing and you need accountability to close it.  Set a deadline for your next move that is in the very near term (remember not the next 50 moves) and tell someone.  Tweet it, put it on Facebook, tell your BFF or your carpool buddy and ask them to follow up with you.  When the only person who knows about your intended action is you, the door is left open for your saboteur, the devil on your shoulder, to talk you out of it.
Dare Yourself
I know, if you feel stuck, a dare may feel threatening, almost confrontational, but to get unstuck you need to shake things up.  Dares call you to play bigger than your comfort zone.  In fact, it feels intriguing to even consider how far you're willing to go.  Want to start your own business?  Playing it safe is googling how to incorporate.  A dare is buying the website for your new business and posting it on Facebook with "coming soon!"  To get unstuck you need to take a step forward, not only think about taking the step.
What do you do to move forward when you're feeling the most stuck?
If you're feeling stuck, check out my new eCourse: Get Unstuck and Choose to Move for a proven pathway to un-freeze and move forward with more clarity, energy and inspiration.