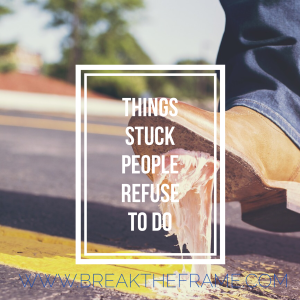 "I'm not stuck, I know what to do," Jane told me during our first conversation.
"That's great!" I replied. "Why aren't you doing it?"
"The list is just long, it's going to take forever."
"Take something off it," I suggest. "Focus in."
"I can't. It's all important."
"What if you pick one place to start instead of cutting something out?" I ask.
"I have no idea where to start. That's why I called you."
Jane could call it what she wanted, she was definitely stuck and keeping herself there through her choices and perspective. Moreover, whether she knew it or not, she was refusing to get unstuck.
The more stuck you are, the hole that you're standing in becomes a canyon that feels impossible to climb – even if you know how to do it. In my experience, most people don't get stuck from not knowing what to do, it's the things that really stuck people refuse to do that keeps them in a stressful limbo.
Here are 7 things many really stuck people refuse to do.
How many are you hanging onto in your own life and leadership?
Pare down the to-do list. 
If your life is overflowing with tasks and to-dos, take some off. Not everything on there is equally important, but it is taking up mind-space. Pick two or three TOP priorities and get 'em done.
Make progress on one thing at a time. 
Multi-tasking has become today's badge of honor. Imagine if I had my child read a book to me while I balanced my checkbook, made school lunches and returned emails. Sounds silly, right? It is. Start one thing, finish one thing (or at least take it as far as it can go for the moment)
Pick and choose.
Don't be Veruca Salt – you can't have it all NOW. It sucks, I know. Get unstuck by picking instead of doing and having "it all." I hear it all the time, "I don't want to compromise." You can't be 42 places at once and you can't do 150 things at once (I've tried, I swear.) Pick and choose, get moving and get unstuck.
Set interim milestones.
Really stuck people refuse to acknowledge progress – they're too focused on end goals. Here's a tip – set interim goals and make them frequent. Celebrate steps and you'll see and feel PROGRESS. It's awesome.
Redefine success.
The most stuck people I know feel like failures because they're not moving, flowing and flexing. They refuse to pick a new dream, define a new vision or redefine success.
Build a 3d model for success.
Try: Dare (set an immediate dare – stretch), Dash (get some hustle and make it happen – give it your all), Dazzle (let your accomplishment shine instead of rushing to the next). Set small challenges to test your assumptions before you label anything impossible.
Shift.
Perspective changes everything and to get unstuck you have to stop refusing to shift yours. Physical movement is a proven way to shift your thinking, not only your body. If you're always sitting at your desk mulling over what to do, why not get moving, pump up the jam and then reconsider your challenge or problem.
Believe it or not, some people like being stuck. They refuse to admit that stuck is an excuse for standing still. You don't need an excuse for a visit to your comfort zone, it's a place to regroup, stretch and grow before you conquer challenges ahead.
Your goals and dreams matter, yet your choices and perspective keep you stuck. What have you been refusing to do and when will you start making another choice?
If you're ready to take your next step and finally leave stuck behind for inspired action, the eCourse, Get Unstuck and Choose to Move is for you.