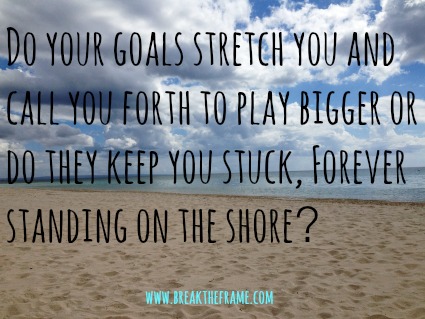 My kids rode their bikes home as fast as they could to tell me their exciting news!  They decided to participate in NaMoWriMo and write a book in the month of November.  The music teacher is leading the charge over lunch and recess and they'd selected a target number of words.  Let's just say that they set the bar high at 15,000 words each.  I wanted to encourage them, but also didn't want their goals to keep them stuck or worse, make them quit.  It was up to me to help them find a more inspiring stretch goal, or so I thought.
My son said, "The most I've ever written is 200.  This is going to be a lot!"
My daughter said, "I picked this as my goal.  Nobody told me what to pick."
Silly Mom said, "Don't you guys think you should pick a goal that's a stretch, but could still be reachable?  We'll celebrate when you exceed it instead of realizing in the first few days it's too much."
That did not land well at all.
The comments came flying fast!
You don't believe in me!
How do you know what I can do?
I don't want to talk to you.
Crap.
I've seen big goals keep the sales team stuck. 
The sales team knows the routine – a contest is announced.  There are three tiers and the top one has a great prize attached.  It matters to the business that sales pick up and the leadership team thought it would be a good idea to give the sales team a huge goal, "because we need it", and a huge incentive to match.
Everyone on the sales team gave their best effort for the first, second and even the third contest, yet they were always falling short by a wide margin.  Unfortunately, in the long run, the sales team felt like failures, and gave up trying for the top.  It felt impossible.  It was simply too far beyond what they could imagine, even with tons of work and hustle.
Every contest that was announced was met with an eye roll because the goal didn't feel real.  Specifically, it felt like a leadership lie that sounded something like this: "I know you want the big bucks, but we don't really want to pay them out. This goal is beyond your reach.  Just settle for doing a little more than you're doing now and we'll give you a little more in your paycheck."
The goal was ultimately keeping them stuck from reaching further because they believed that they could never reach far enough.
I've seen personal goals that allowed no room to flex.
"I'm going land ten speaking gigs by January 1st," Jane said.
"I'm going to be an SVP by the time I'm 30," said Rob.
"I'm going to sell 5,000 copies of my book next quarter," said Meg.
Jane was finding it hard to break in since she was not yet known on the speaking circuit.  She chose not to celebrate the two gigs she booked and instead lamented falling short by eight.
Rob was still a Senior Director on his 30th birthday and celebrated with thoughts of quitting to finally be promoted, despite the fact that he loved the company.
Meg's sales early in the quarter were 250, a far cry from being on pace for 5,000.  She let embarrassment replace her early energy and her promotion efforts started to feel half hearted at best.
Can Goals Keep You Stuck Instead of Stretched?
Take 30 seconds to google "goals" and you'll find approximately 20 zillion articles on why they matter and how to stay motivated.  I believe that yes, everyone needs to have goals, but not all of them need to be the big kahuna.  Goals can keep you stuck, believing that you don't have what it takes, when the gap is too big.  
Stretch goals should adjust and grow.  Don't let fixed goals make you feel like a failure.  Every big kahuna goal has interim milestones and places to stop and celebrate.  Moreover, it's easy to forget that our bars do not need to be equal.  My stretch may be easy for you and vise versa.
Imagine a ladder with each rung taking you higher.  Each step is a goal and when you reach it, you set a new one and climb further.  If the only choices are the ground and the top rung, with no landing points in-between, you will likely never reach the top, give up, and find a new ladder to climb.
Raise your own bar
Whether you're writing a novel in a month or exceeding sales quotas, it's motivating to have a goal.  Targets keep you moving towards success.  However, targets should never be arbitrary.  When you can't imagine any scenario where you can reach the goal, it's going to backfire.  Instead, continue to raise your own bar over and over.  Set a stretch goal and when you achieve it, move it.  Keep the stretch going and discover the outer limits of what's possible as your confidence, competence and creativity grows.
Celebrate success instead of lamenting the failure
You will have times you fall short.  We all will. Falling short does not mean that a heck of a lot of good stuff was not accomplished along the way. Failure is only truly a failure when you give up.   It's up to you to intentionally look for the good and use it to inform your future goals.  Think stretch, not stop.
Falling behind doesn't require you to give up
You've heard it a million times before: Success does not follow a straight line.  You will have setbacks and days that you move forward by leaps and bounds.  When you have one of those setback days, don't start telling yourself lies like "I knew I couldn't do it." or "The dream was just too big."  Today may be a setback, but tomorrow may be the leap.  My advice?  Keep stretching and keep going.
Believe you can 
Belief is often what separates success from stuck.  Do you believe you can do it or are you going through motions propelled by doubt and fear?  Belief is what keeps you in action.  Belief is what gives you strength.  Belief is a gift that you can give not only to others, but also to yourself.  Don't lower the bar because anyone else thinks it's a good idea, believe you can and you will (or at least get a heck of a lot closer than simply playing it safe).
As for my kids, my son is adjusting his target to 7,500 words which is still a stretch goal that will take a lot of discipline.  My daughter is sticking with 15,000 and I'll be cheering her on every step of the way.
How have you learned to feel the stretch without falling into stuck?
Set goals that stretch you, not break you or keep you stuck!  Want support? Check out my eCourse: Get Unstuck and Choose to Move.