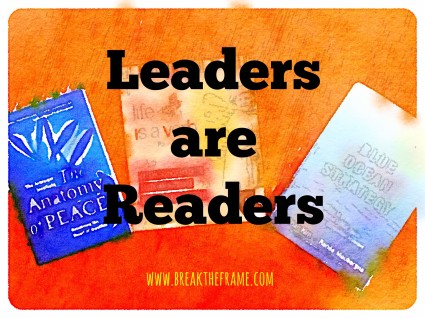 I had just graduated college and was sitting around the pool at my apartment complex days before starting my job at a big consulting firm.  I reached into my pool bag and opened the first business book I had ever purchased or read out of a classroom setting, Reengineering the Corporation.  I'll bet many of you can guess what year that was since I'll bet you too were reading this groundbreaking work from Michael Hammer and James Champy.
While I don't remember every concept and reengineering is no longer a buzz word that we hear everyday (thank goodness!) I do believe that first book influenced the way I see business and leadership even today, over twenty years later. Rethink the way you're organized, rethink the way you've always done it in search of something better, fresher and more meaningful to compete in today's ever-changing world.
I go through cycles with reading and have discovered over the years, that when I'm not reading books, I begin to have stress creep into my life, edging out patience.  I'm getting ready to go on vacation and tons of books are coming with me on my iPad and in my suitcase.  I'm looking forward to reading day and night (and playing a lot in between!)  I'm bringing business books and fiction work too and can literally feel how excited I am to dive head first into worlds and ideas all born out of someone's courage to put pen to paper or, more accurately, fingers to keyboard.
When I moved to Australia, I moved from a large house with a generously sized library to a very small home with two book cases; one for the children and one for the adults.  Lining my modest shelves I have photo albums, cook books, work files and one shelf of some of my favorite books that I couldn't bear to leave behind, sealed in a box, in a dark storage facility, waiting for my return.
In my opinion, books are meaningless when they only line our shelves and take up space.  Books come to life through the relationship between the author and the reader as we enter a special pact of trust, curiosity and a willingness to go on a ride somewhere new together.
Among the usual suspects, I have Goleman, Fine, Kotter and Covey that have travelled with me across the ocean making the choice of my favorites a challenge.  After a quick debate, here are my top three books on my shelf that have folded pages, notes in the margin and are often found in my hands late at night long after I should be asleep.
(These are NOT affiliate links but will take you to Amazon so you can check them out.)
Blue Ocean Strategy by W. Chan Kim and Renee Mauborgne
It doesn't matter what industry you're in, you can be strategic about innovation and create a new market space where you can escape the bloody red waters of the competition.  Case studies and a practical guide to identifying your organization's future all rolled into one exceptional book.
The Anatomy of Peace by The Arbinger Institute
A heart in conflict is a heart at war and this book shows us the path to a heart at peace.  The door to change is found in our relationships, not in steadfastly sticking to our ideals and self-made rules of right and wrong.  An easy read that will draw you in and teach you without hitting you over the head along the way.
Live is a Verb by Patti Digh
I'm passionate that our stories and experiences are what make us human and teach us about life and leadership on a daily basis.  Patti Digh shares her stories while encouraging each one of us to live life filled with mindfulness and intention.  A truly inspiring read.
Your turn.  I have precious little space on my shelf but tons of GBs on my iPad…  What are your favorites?  Is it still that first business book?  If you were moving overseas and could only take a select few, what would make the cut?
For coaching, consulting or speaking Let's Connect!