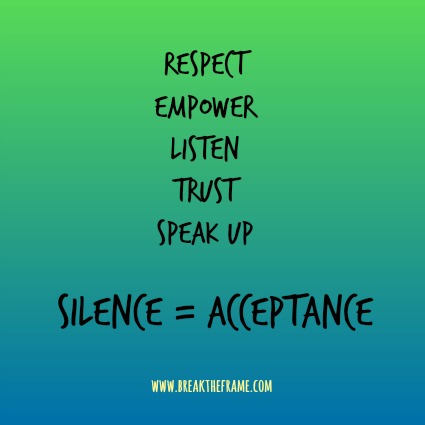 I had only been in the workforce for less than a year and had landed on a really exciting consulting project.  I was on the team designing the organization structure for a big IT outsourcing program.  I was collaborating closely with senior leaders in my company and with key players in the client organization too.  The hours were long, I was learning a lot and I loved my job, that was, until I started to get a strange vibe from one of the clients.  I wondered if the "vibe" was actually sexual harassment, but quickly dismissed that thought.  After all, he was a seasoned professional who knew better and I was a young consultant who was clearly reading things wrong, right?
I didn't want to get anyone in trouble if I was misreading the situation so instead of speaking up, I stayed silent.  I asked myself over and over, "What if it's not sexual harassment?"  I was more worried about getting in trouble than having a place to work where I was safe and respected.
Each time I met with him I stayed professional and on topic, but he'd usually like to break the ice with some personal banter.
"Do you have a TV in your bedroom?" he asked. 
"I don't," I answered, ready to move back to the meeting agenda. 
"I do," he said.  "Nothing else is going on in my bedroom…"
Conversation after conversation there was nothing overt, but I always left our meetings like I wanted to take a shower.  Ultimately, I decided I thought about it enough and dreaded meetings with this person enough to get some advice from a female senior leader on the program.
"I'm sure it's nothing but…"
I told her how I felt, what was said and that I was probably wrong.  Her reaction taught me a lot.
Within 24 hours all of the senior Partners on the program had been informed and met with me in the conference room.  Not only did they immediately report it to our home office HR, but also an offer would not be extended to the person who was harassing me and they gave me the option working remotely from our headquarters office.  Furthermore, I would not see or meet with that client again.  This was serious and they were taking it seriously.  I felt respected, valued and heard.
The Partners taught me an important lesson with their words and swift actions; it's my job to speak up and their job to take action.  There was no hemming and hawing as they figured out how to keep everyone happy.
What if it's not sexual harassment?  What if I'm wrong?
Clearly, women are not the only ones that are the victims of sexual harassment in the workplace.  Men may struggle even more than women with speaking up when they feel victimized.  Worry about the judgement of others and overwhelming shame often stops men from approaching HR.  It doesn't matter if you're a man or a woman or you're unsure if you're being harassed… if you're consistently uncomfortable, say something.  Go to HR and they will speak with you and not belittle you.  If your company is very small and you don't have HR, go to speak with a trusted senior leader.
My company took things seriously and yours should too.  If you stay silent out of fear, doubt or embarrassment, but feel like you're being sexually harassed, you need to be a leader that takes a stand for yourself.
Should you say something if you feel harassed at work?  Yes.
If you feel like you're being harassed, say something.
Sexual harassment is never acceptable.
If you don't get a response from your company that takes your report seriously, that is not somewhere that you should work.
Man or woman, new hire or senior leader, no one should ever feel threatened, uncomfortable or violated at work.
Have you ever found yourself in a similar situation?  What did you do?
For coaching, consulting or speaking Let's Connect!