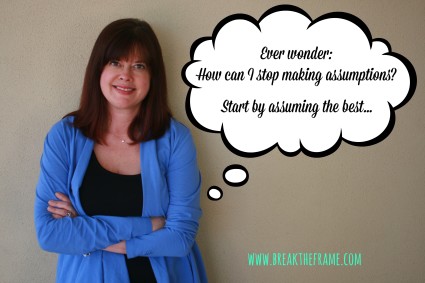 I don't know about you but nearly every day I encounter someone or something that makes me frustrated and I immediately begin to make assumptions and create stories about the underlying truth (and in my made-up-world it's rarely positive.)  It happens often enough that I now wonder how can I simply stop making assumptions and invite stronger relationships.
I'll bet the person at the store checkout that was rude to me is just a nasty person.
I don't like the homework my child brings home from school, clearly the teacher isn't great.
My neighbor left their trash cans out on the curb for the past three weeks.  Are they too lazy to bring them in?
I gave perfectly clear direction and this is what I get? They must be incompetent.
Just as I wallow in my assumptions, I discover time and time again that I'm flat out wrong.  Truth is, my assumptions are the equivalent of tall tales.  The worse part is that my assumptions didn't make me feel better, but they did make me feel more justified in my response to the other person.
Feels Good to Be Justified
Who doesn't like to be right?  Interestingly, justifications do not make us right, they simply make us feel that way and take the mental pressure off of our choices.  Justification is the bridge between the way we see the world and how we believe the world must see us too. If I'm justified, I'm right and my assumptions back up my story.
What If I'm Wrong?
Scenario One:
Leaving school last week my daughter stopped to wave to her friend and called out her name.  I would have bet big money that she looked right at her and her friend intentionally ignored her.  Some friend!   Immediately, I felt angry that this person was ignoring my sweet daughter.  My girl, a role model for positivity simply said, "I just don't think she saw me."
Ah-Ha:
We continued to walk towards the car and I started to really dig into my feeling that this new friend was a bad person.  After all, I heard she's a troublemaker.  Imagine my surprise when my negative thoughts were interrupted as she called out my daughter's name in the parking lot and was waving.  Guess she didn't see her after all. 
Scenario Two:
After getting caught up in my feelings about my daughter being ignored, I hustled into the car feeling better yet also ashamed that I jumped to such a negative conclusion.
Ah-Ha: 
That afternoon our family friend came by the house to pick up his son.  The first thing he asked was "Did you see me waving to you? I was in the green car."  I didn't see him; I was too caught up in my own world!
Both stories are the same at their heart, but while I was jumping to conclusions, my daughter and friend demonstrated healthy coping strategies.  Let's break them down:
How Can I Stop Making Assumptions?
Assume the Best
While there are mean and manipulative people in the world, truly, most people are doing the best they can.  When you assume the best, your assumptions color your experience, your interactions and your relationship.
Don't Make Up Stories, Ask
My friend asked if I saw him in the parking lot instead of spinning tales.  When you get curious about someone, let go of your need to be justified, without a doubt their true story will be revealed.
Drop the Tension
When you dive into justification, you up the tension between you and the object of your justification.  In that equation, you're a human being, faults and all, and they're an object that is in your way.  Drop the tension and give people the space to be human too.
Freely Give Trust
If someone tells you why they never called, declined your offer, or was speaking out of anger, believe them.  Doubt is about you, but trust is a choice that is about both of you.
Break the Frame Action:
If you're going to leap to conclusions, consciously assume the best of others and see how that transforms your interactions, relationships and leadership.
For coaching, consulting or speaking Let's Connect!