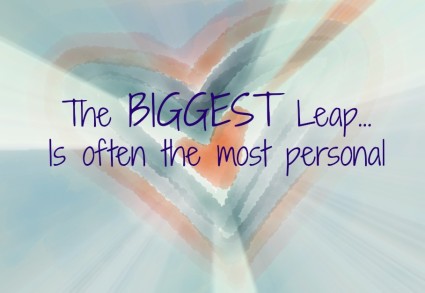 I've been mulling over this post on the biggest leap for a while.  I could write a great post about trust, and how that enables each of us to make the leap from where we are today and truly create a more powerful and inspiring future.  I'd have some great tips and know-how too since I work with people who are committed to doing just that.  Still, it would fall flat without the missing ingredient:  My heart and truth speaking to your heart. Words are just words that we process and chew on in our brains… until we feel it.
The biggest leap is from heart to heart, not from here to there. ~ Alli Polin (Click to Tweet)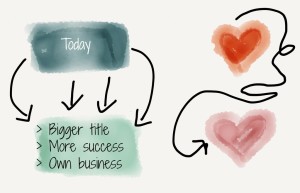 How many times have you heard:
I don't know if I'll ever let myself fall in love again.
I totally trusted them and got burned – never again!
I really feel like I can trust my boss but everyone tells me to be wary.
It's easier to let other people do the talking so I never have to talk about myself.
I'm just not sure I'm ready to leap into another relationship.
We've totally fallen out; there's no chance for repair.
I just know that she hates me.  I just know it.
Here's my story of connection and justification for my willingness to let it all go.  (Hint: Justification is something we do to make ourselves feel better… we're not really justified in our actions.)
I have an old and dear friend that I love beyond measure… and I have not spoken to her in over a decade.  We both had our first children around the same time and she discovered that her child has autism.  In response, she retreated from many of the people that loved her the most; she went inside of herself with her pain, confusion, love and hope.  As she retreated further and further inside of her protective shell, our contact ceased.  Here's the most important part:  Although our contact ended, our connection did not – my heart is still open to her, loving her and her son with incredible intensity.
What's stopping us from reconnecting?
Embarrassment – It's been a long time
Fear – Will we understand the choices we've each made?
Concern – Don't want to intrude on her life
Lies – I should wait for her to be ready
Hurt – Why did she so willingly let go?  Why did I?
Pain – I miss my friend
Justification (better known as "The Way to Feel Better ASAP")
When we justify our actions, we're making ourselves feel alright about our behavior and instead of going with our heart's instinct, we start to weave a story.
Alli's Heart's Instinct:  Call my friend that's hurting.  Email her.  Don't give up on her.  Let her know I'm there when she's ready… over… and over… and over.
Alli's Behavior: What the heck?  Did she drop off the face of the earth?  Fine.
Alli's Justification: She lives far away anyway and she really wasn't making that much time for our friendship.  In fact, I think I clearly valued it more since I was happy to keep in touch and she's not. You know, I clearly misjudged her.
Alli's Reality: I've lost touch with a best friend but my heart, even a decade later, still hurts.
We are both responsible and we both have an opportunity. 
Here's the truth:
It may seem next to impossible but all we have to do is pick up the phone or send an email – and stop accepting the silence.  It may feel vulnerable, it may feel scary but it's not too late.
The biggest leap is a willingness to show our full-selves and our full-hearts to another human being.
The biggest leap is a willingness to accept others for who they are, faults, choices, excuses and all.
The biggest leap is a willingness to stop justifying our behaviors and to see others as humans, our equals.
The biggest leap is a willingness to say I'm at fault.
The biggest leap is a willingness to say I care.
The biggest leap is a willingness to extend your hand first.
Oh… If you happen to read this post, my most special friend, the invitation is there indefinitely: "We will always go dancing."
When have you decided to live behind a protective wall instead of letting yourself make a heart connection?  Are you willing to make the biggest leap?
Are you ready to make the leap?  For speaking, coaching or consulting, Let's Connect!