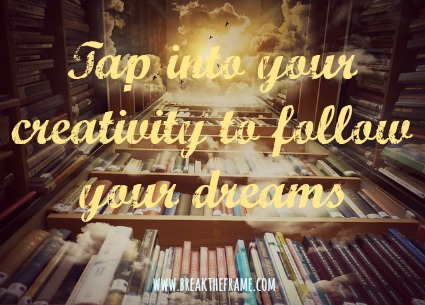 A few weeks ago I wrote about my children and their commitment to the NaNoWriMo Young Writers Program.  In my effort to support them, I've decided to throw my hat in the ring too.  All it takes to "win" is 50,000 words in 30 days.  Easy peasy? I doubt it.  I know all of the reasons "why not" and have been going over and over them in my mind, but excuses kill creativity.  I've finally started to ask a much better question: "Why be creative?" I've been sitting on the fence long enough – change only happens with action.
If you aren't familiar with National Novel Writing Month (NaNoWriMo) here's the quick and dirty scoop:  You write a novel in a month.
As I went through the process of deciding go or no-go here's some of my self-talk:
I am not a novelist.
I am already writing "my own" book on breaking the frame.
I have a lot of work to do for my business, I don't really have time to write a novel.
I've never wondered if I have a novel inside of me waiting to leap out.
Nobody is going to ever read my novel, except maybe for my husband, and even he likely won't read it.
I think part of the truth is also that it feels secretly decadent.  Kind of like eating really good chocolate or drinking fabulous wine.  Almost like I'll be sneaking around on my responsibilities and doing something frivolous.
Who am I to prioritize fun, creativity or me for 30 days in a row?  Shouldn't I be working on new programs, finishing my non-fiction book, focusing on my business?
Here are the top 10 reasons I'm participating in this year's NaNoWriMo and I hope that you'll find some that inspire you to make a creative leap this month too. 
Why Be Creative?  Here are 10 Reasons!
1. Totally Out of the Comfort Zone
I have never tried writing a novel or imagined myself as a novelist.  It's far beyond my comfort zone where I happily write about personal leadership, but there's also something really alluring about it.  Can I write fiction?  I'm sure.  Can I write good fiction?  I'm about to find out.
2. Discipline Required
I will need to write 1,667 words a day… if I don't skip a day over the next 30 or come in low one day.  I don't know that I've done anything for 30 days in a row.  If I can do this, I wonder what else I will be able to apply the same discipline to next? 
3. Sparking Creativity
Doing something completely new, always opens up my thinking.  In fact, this is a challenge to intentionally immerse myself in creativity. How cool is that?!  I'm going to practice letting go, swimming with my imagination, and seeing where it takes me.  Totally awesome, right?
4. New Challenge
I like having a challenge in front of me however, some of the challenges I set are, well, clearly attainable. Yeah, they'll take discipline, creativity and focus, but they're far from out of reach.  Writing a novel?  I have no idea how to do that.  I know how to write words and string them together… the rest I'm going to learn on the fly.  Kinda scary, kinda thrilling, kinda exactly what I need to be doing.
5. Don't Know the Ending
I have a premise in mind for the book, but as of this moment, I don't know the ending.  It feels good to write without knowing how it will end.  I moved overseas without an end date and it has felt overwhelming at times.  This challenge is going to get me back into the flow of play and possibility that is present when you let go of the ending and ground yourself in the journey.
6. Nobody Forced Me
Nobody dared me, nobody assigned me this task, I'm not doing it with a bunch of friends or to fit in with the cool crowd.  I'm going to write a novel in a month because I want to do it.  Because it's making a creative leap, totally different and absolutely playful.  I'm doing it for me and to feed my longing to play.
7. No Telling My Kids "Do This" While I "Do That"
I can imagine the scene that would unfold after school and on the weekends if I were to tell my kids "No playing! You said you were going to write a novel. Get to work!"  Sound remotely fun to you?  Not to me either.   Instead, I want to remember why we're all doing the challenge and be in it too.
8. Big Goal
Not going to lie, 50,000 words sounds like a lot of words to me.  This is not a challenge simply to try my hand at writing fiction or even a short story.  A big part of the challenge is the word target.  I can't open my laptop for 20 minutes before bed and crank it out.  I need to plan, schedule and commit to tackle this big goal.  That feels motivating.
9. Break Bad Habits
I have some really bad writing habits.  I blog regularly, but it takes me forever to write a post.  I edit as I go in an almost endless re-read, re-write cycle.  I also check Twitter 5 – 10 times, open Facebook on and on.  I will not have time for re-writes, ongoing edits or social media distraction during NaNoWriMo.  I will edit my novel starting in December, but for now, I need to use every minute of my writing block wisely.
10. Fun
I need to reconnect with fun and doing something that makes my heart sing.  I'm inspired by my coaching clients, love blogging and building eCourses but there is something really fun about simply being creative.  What I love most about creativity is that you can't do it wrong.  Creativity is freeing from self-judgement, must-dos and mistakes.  Who doesn't want more of that in their life?
If you're feeling like life is one big rut at the moment…  Stop wishing that things were different and DO something different.  It's the surest way out and on with the adventure!
What will you do this week and this month to turn up the volume on your creativity?
For coaching, consulting or speaking Let's Connect!
What do you need to do to get out of your rut and spark some creativity of your own?  This eCourse is for you: Get Unstuck and Choose to Move