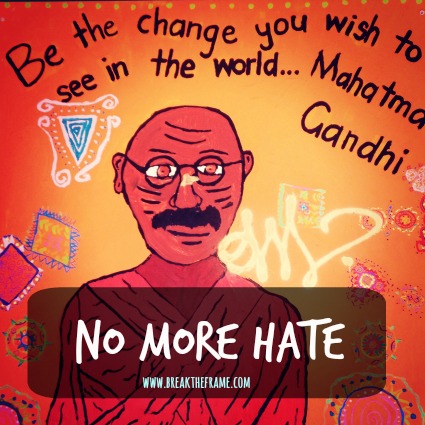 I'm currently working with a contractor that drives me batty.  Everything they do and say rubs me the wrong way and as a result, I'm losing confidence in their ability to be effective. They're demanding, judgmental, secretive about their processes and promised results have yet to be proven.  Honestly, I was brought up to never use the word "hate," but instead, say "strongly dislike," yet this person is pushing me over the edge.  I hired this person to be on my team, and now I'm left wondering what to do when you work with someone you hate?
Something strange happens every time I interact with them; I go nuts.  I am polite, respectful and flexible and it takes all of my energy for every short interaction.  Once I hang up the phone or leave our latest meeting, I'm seething with anger and frustration.  After our meetings and email exchanges, I am like a bubbling cauldron of exasperation and it flows over and burns innocent people in my life.  Not good.
Their words, body language and attitude make my skin prickle.
Good idea but…
Don't do that…
I'm perfect… (OK, they don't really say that, but it's what I hear)
I really can't live and work like this, wasting energy that can be channeled into positive actions.
In a situation like this it's easy to feel stuck and simply accept that "suck it up" has to be the strategy of choice. I want you to know that there are other, more empowering, stress-reducing choices to make.  I'm taking responsibility for my thoughts and feelings and so can you.
How Do you Work with Someone You Hate?
You don't have to take all of these actions, but pick a few and see if it starts to make a difference.
Take Responsibility for the Way You Feel
You are in control of your thoughts and feelings and even when your buttons are pushed, you can still choose your reaction.  As lovely as it would be to blame someone else for bringing out the worst in you, you're the one letting it all hang out.
Speak Up
If you're done suffering and ready to take positive action, you can always say something.  Open the door to a conversation not only about the work, but also about the relationship.  It doesn't mean that they'll want to dive into a tough topic, but you can be a leader who opens the door instead of keeping it glued shut with your anger.
Breathe Deeply
Slow your heart rate, focus on your breath, close your eyes and take a moment to consciously let go of the stress and lean into the breath.  Sounds woo woo, but it works so inhale…. exhale… in hale… exhale…
Better With or Without?
Sometimes you have limited options and even bad is better than nothing. Honestly.  It's tempting to assume you can just get it done on your own and cut the focus of your hate out of your life; really, really tempting.  However, there are times when you need someone's help and the only person who can do it will not be your BFF.  Get really clear – is this a case where their positive contribution outweighs your negative reactions.
Make a Choice
You always have the ability to choose: stick with them or cut them loose.  Like I wrote earlier, "suck it up" is not the only strategy at your disposal.  Be really aware that you're making a choice, not floating along doing nothing and using your hatred as your oars.  Keep 'em around and make it an intentional choice which, like a big boy or girl, you need to own.
Look in the Mirror
What is it about them that digs into your heart and gets your blood pumping?  What is it about you that's embracing anger instead of positive feelings and reactions?  In this case, I can't change their behavior, but I can change my thoughts and reaction.  So can you.
They Don't Care
While you're sitting over there steaming, picture this… they don't care, notice or miss a beat.  Assume that they're going about their day not giving you a second thought.  Why are you giving them so much energy?  One sided, baby –  never works.
Do I still dislike this person greatly?  You betcha.  Am I willing to accept that I choose to engage them as part of my team?  No one is forcing me and there is no one else that I can blame for that choice?  Yeah, all true.
So, do they need to change or is it me?  I think we both know the answer to that question.
PS.  There is no magic or overnight solution.  I still struggle and so will you.  The trick is to keep on trying and to do a little bit better tomorrow than you did yesterday.
How do you work with someone you hate?  How have you turned a contentious relationship into a strong partnership?
For coaching, consulting or speaking Let's Connect!