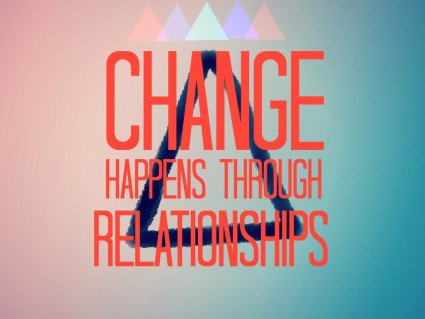 Does this sound familiar?  You really want someone to make a change in their life or leadership and you see the need for change so clearly, it's killing you that they are not changing a thing.  You take their change on as your personal mission and encourage them to change, tell them what they need to do, and practically beg them to make a shift yet for all of your pleas, they are not moving a muscle.  What's going on?  Why is this person totally immune to your rational arguments, emotional plays and aggressive threats?
Telling rarely inspires a meaningful shift. 
You need to lose weight.
You need to stop working so many hours.
You need to get a better job.
You need to stop whining.
You need to do this thing I really want you to do and I don't care if you really want to do it or even see that you need to do it.  You just have to because I said so.
Workin' for ya?
There's also the school of thought that I should change because I know I need to make a shift and my will power should be enough. 
I need get to the gym more.
I need to spend more time with my family.
I need to be less temperamental.
I need to get a new job.
I need to do this thing because once I do, my life will be better, but for some reason I still really don't want to do it.
In practice, knowing what to do still struggles to go from the brain, to our way of being and into action.
I'm a firm believer that change happens through our relationships and not because someone tells us what to do or that we just don't have enough resolve to follow through on our wishes.
When we are in relationship with each other, I can accept you for who you are and trust that it's not my job to change you, but to change myself which in turn will invite you to do the same.  
When I ask  you to change, I know better.
When you struggle to change and can't, you're not good enough.
When I encourage you to change, I want for you.
When you are stuck in your efforts to change, you are deeply stuck. 
When I force you to change, I'm smarter.
When you refuse to change, you feel alone with your struggle.
When I change, I invite you to join me, as my equal, to discover what's possible for you. 
I'm reminded of a story that I first heard when I was studying with the Arbinger Institute (if you have never read Leadership and Self Deception do yourself a favor read it.  This is not an affiliate link, I'm just passionate about Arbinger's work.)
Here's the story: 
A young man in India was suffering from health problems due to his love for sweets and sugar. His mother tried everything she knew to change his eating habits, but he could not, or would not, change. It seemed that the more she got after him, the worse his problem became.
Finally, at a loss for how to help him, she decided to take him to see Mahatma Gandhi, whom she knew her son admired. After a long and hot journey, they finally arrived at Gandhi's ashram and upon reaching him she said, "Mahatma, my son is in ill health because of his love for sugar. Could you please tell him to stop eating sugar? Perhaps he would listen to you."
Gandhi paused for a moment, thinking. Then he looked at the woman and said, "Madame, bring your son back in three weeks. Then I will speak with him."
A little confused about why he could not tell her son to stop today, she accepted that she would need to make the journey again in three weeks time back to Gandhi's ashram.
Three weeks later, the mother again traveled with her son to see Gandhi, whereupon he told the boy to stop eating sugar.
"Why did we have to wait three weeks for that?" the mother asked, before leaving.
"Madame," Gandhi responded, "three weeks ago, I was still eating sugar."
What shift do you need to make in your own life and way of being before you're truly able to invite others to create change in their life and leadership?
For coaching, consulting or speaking Let's Connect!