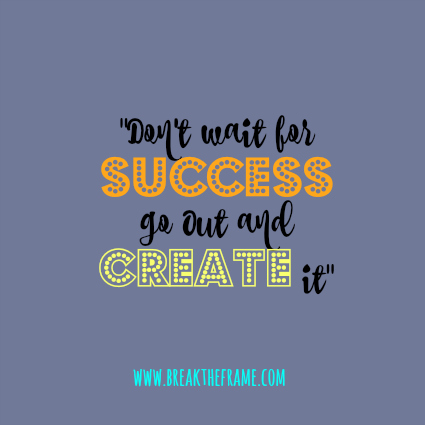 You may not be a resolution kind of person (I'm not either), but that doesn't mean that you don't want to accelerate your success. Jon Mertz shared a concept that I love for the new year – it's a second chance to take the good, bad and ugly from last year and move forward with purpose on purpose. To help you kick off the new year as you make a fresh start, I have an idea or two (or fifty) for you to consider.
Wait! Before you close your browser and feel completely overwhelmed, I'm not suggesting that you do all 50 on a daily basis. My gut tells me that you know where you need to start.
What are you willing to do to accelerate your success? 
[Tweet "Don't wait for success – go out and create it!"]
Block time on your schedule to crank on work and remain meeting-free
Exercise – de-stress and build strength!
Find a mentor
Set up informational interviews to learn about other's path to success
Share your ideas even when you're afraid they will sound stupid
Eat breakfast
Take a vacation
Spend time with your friends – decompress
Keep a notebook (or app) handy to write down inspiration when it strikes
Smile
Dress to feel good – you don't have to impress, but put on something that makes you feel your best
Persevere even when you're tempted to give up
Banish the phrase "it's impossible" from your lexicon
Don't assume you'll remember your brainstorm in the morning – open your eyes and write it down
Know your values and use them as a guidepost to lead with integrity
Make time for your family  – reenergize and recharge
Read a non-fiction book on leadership, management, innovation or another topic of interest
Read a fiction book and take a mental break from challenges at work
Spend time hip-to-hip with the front lines
Ask people for their opinions and be willing to shift yours
Attend a conference in your field
Make real connections on Social Media (aka avoid exclusively one-way sharing)
Stop making assumptions about what others think and their motivations – ask
Train for a marathon (or something else that requires discipline)
Wake up early and use the quiet morning time to prioritize for the day
Leave your phone in your bag (or in another room) during meetings
Let go of the pressure to return every email, IM and tweet immediately
Share the story about the time you were less than perfect – show people you're human
Blog about your knowledge and experiences
Join in on Tweet chats like #PeopleSkills, #DaretoBe, #TChat or #LeadwithGiants to get inspired and build relationships
Set limits on mindless game time like Candy Crush
Admit when you're wrong instead of digging in (it won't make you right)
Join Toastmasters and fine tune your public speaking skills
Don't be afraid to rock the boat  – change takes discomfort
Read one blog a day and apply what you learned
Be a scientist – hypothesize, act, reflect, shift
Get a new job when you're reached the limits in your current position or organization
Update your resume to include your latest experience and accomplishments before you need it
Create or join a mastermind group
Make time to get to know people beyond their titles and job functions
Notice when you're selling to the wrong people at the wrong time (i.e. friends over catch up dinner and drinks)
Shake things up – even a small change could help get you unstuck
Reframe a plateau as a time to get stronger before your next leap
Break the Frame of "because that's the way we've always done it" and follow your gut
Allow for setbacks and embrace the learning
Believe you CAN
What would you add?
Most important: What will you DO?
Break the Frame Action:
Bookmark this page or print it out. When you need a little inspiration or feel like someone else needs to give you permission to forward your personal development and accelerate your success, think again.
If you really want to accelerate your success, get clear on your values, vision and find clarity on your next step. Register before January 31st for a 30% savings on the eCourse Get Unstuck and Choose to Move.