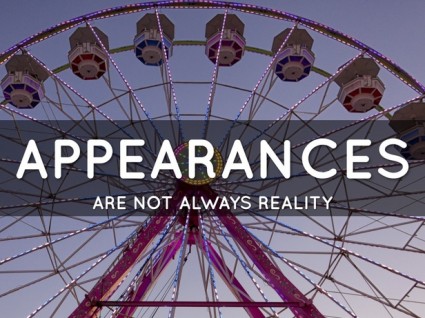 It was hard to miss the traveling carnival setting up on the side of the road; I live in a small town and this was big news.  That weekend, driving home from dinner, we saw the bright lights and they were calling our names (at least the children's names).  From a distance it literally sparkled and the music was loud, but filled with energy and it worked its magic; we did a U-turn and pulled into the lot.
A whopping thirty seconds after getting out of the car, my husband and I were ready to run the other way.  Resisting the urge to leave, we set parameters around time and money.  Every crappy ride was $10 and it looked like they had not been serviced since around 1972.  Moreover, every game cost the same price and just like in the movies, no kid was ever going to win; there was only one winner and it was the carnival.
Fifteen minutes later and $60 poorer we finally got back in the car, slathered on loads of anti-bacterial rub, and tried to explain to our children why it was not what it seemed.  Shiny lights distracted us, masking reality, and masterfully let our imaginations fill in the story of what we most wanted it to be; truth obscured by our desire. 
Do you let your desires, your wishes, color in your reality? I'll bet it happens almost every day.
Recruiting – Pain vs Reality
I've hired people who sparkled in the interview even brighter than the shiny carnival lights.  I desperately wanted them on the team and fell under their spell.  However, just like my carnival transformed in appearance under the harsh light of day, my new team members had major blemishes, gaps, a well-pieced together illusion too.
I could hop in my car and leave the carnival.  It was not quite as easy coaching, mentoring and managing a new team member who ultimately was a poor fit and needed to leave.
TIPS:
Behavioral interviewing works because it let's you focus on knowledge, skills and abilities and avoid the trap of "I just like them."
Have other people on your team interview candidates to confirm that your rose-colored glasses are not changing reality.
Listen to feedback from other interviewers.  If everyone has doubts, consider them, instead of pushing forward with an offer.
Organizational Culture and Fit – Illusion vs Reality
Dream jobs felt made up until I was offered mine.  It sounded so perfect and I even got to make up my title!  Fun!  **Remember, I thought the rides at my crappy carnival would be fun too looking in from the roadside.
In this case, the reality of the organization culture  and employee value proposition did not match the illusion of the sales process.  In only a few days the smoke had lifted and I knew I was in for a rough ride.  The question was, would I whine about it or do something about it?
TIPS:
Use resources like LinkedIn and Glassdoor to put together a picture of reality from the inside out.
Be aware if you're working with a contingent recruiter that only gets paid when the position is filled.
Trust your gut.  If something feels off in the interview process, don't let $$$ blind you to the importance of strong cultural fit.
Personal Relationships – WannaBe vs Reality
Who doesn't want to hang out with the cool kids or date yesterday's football captain that's now the CEO?  Somehow, you feel special standing next to people who think that they're special.  Hint: You're special too.
My carnival looked perfect until I looked more closely.  How often have you gone on dates, to a party or networking event with "the chosen" only to discover they're boring, mean or, even more likely, just like you?
TIPS: 
If the first thing someone tells you is their title, get curious.  Who are they really?  Put aside their big title to do some digging.
If you're caught up in the show of how you want to be seen, ask yourself, do you remember who you truly are?  If not, it's time to break the frame and rediscover you.
Relationships are between two human beings not carefully crafted personas.  Let your hair down and you'll invite others to do the same.
How have you made the leap to embrace reality over flash?  What are your tips?
For coaching, consulting or speaking Let's Connect!