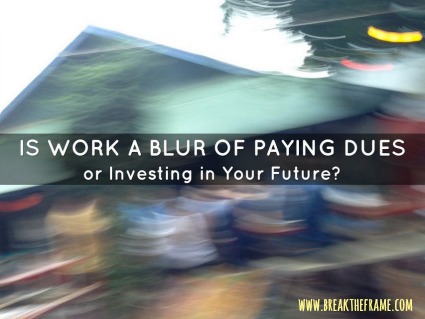 As a leader, many would argue that they're paying bills daily.  I hear it from clients all the time as they talk about paying their dues at work.  I had a strange experience today that got me thinking about the dues leaders pay as a result of a surprising outcome from one of my least favorite and most mundane of tasks, paying bills.
I sat down at my computer before work to take care of some personal admin that had backed up while I was on vacation.  The part you can guess is that I logged on to a few websites, entered my payment details, clicked confirm and went about my business.  Here's the strange part… I looked at my confirmations and one was paid in the past, one in the present and one was set to be paid in the future.
Before you assume that it's impossible to create actions across the past, present and future simultaneously, I should mention that I was paying bills in the USA and Australia which means that my today is still yesterday in the USA.  Confusing?  Maybe, but I think there are a few leadership lessons to be learned about how our present actions ultimately define our past and shape our future.
Instead of being a leader who's focused on paying your dues at work, you can be a leader who intentionally creates a meaningful legacy through powerful present choices and a commitment to co-creating the future.  I invite you to shift your mindset and consider that every choice you make today is not predetermined and simply paying your dues, but actually investing in an unfolding adventure.
Three Critical Questions for Leaders to
Stop Paying Dues at Work and Start Investing in the Future
1.  How am I showing up?
Check in with your way of being in this moment, you are setting the stage for your future impact and legacy.  Will people remember a surly, kind, positive, energetic, critical, or impassioned person?  You choose every day, every moment how you show up and you create a bridge from the past, to the present and future.
Imagine a dinner party seven years from now and a few of your old teammates and friends have gathered for an evening of fun and reminiscing.  Someone asks:  Do you remember working with (YOUR NAME HERE)?
What will the others say about the way you showed up?
Yeah!  Love him!
Oh my gosh, if I never see her again, I won't mind a bit.
She always brought such a positive spark, I try to do that now.
No idea what happened to him.  Who cares?
Leaders show up, which takes far more focused effort than simply driving to work and getting out of the car.  The not-so-secret place to start?  Vulnerably and bravely bring all of you to everything you do.
2.  How am I engaging?
Leadership happens through relationships, not silos, work plans or a cushy title.  Unless you choose to engage, you're simply not leading.  There are no shortcuts to replace human connection.
Let's zoom back to that imaginary dinner party where they are still talking about you.
What will they say about your engagement?
I've never met a person with more enthusiasm!  It was contagious.
I don't think I ever spoke to him unless it was via email, tweet or text.
Thank goodness we never have to suffer through another all-hands meeting with her.  That was really just PR.
I felt like he invited me to be a part of something really special.
Leaders deeply engage in the moment with more than the work, leaders engage with people, ideas and possibilities.  Building strong relationships today is an investment in a stronger, more meaningful tomorrow.
3. How am I changing?
You can choose to stand still or bravely and boldly meet your future.  It's coming either way.  Leaders that not only accept change, but invite it, have vision, courage, and a commitment to growth.
Hello dinner party…
What will they say about your evolution?  Did you change?
Our team was always doing training on something.  I learned more working for him than I have since.
We used to joke that she was caught in a time warp.
He was always open to feedback and ideas and actually acted on them.  So rare!
I felt like she was always working herself out of a job by letting me do more.
Leaders change when they accept the past, yet do not let it define the future.  Every day is a new opportunity to create success, engage more deeply and show up more fully.
My bills for the month are paid and you may still feel stuck "doing time" and "paying dues."  Your perspective defines your experience. Do you want to choose paying or investing?  Hefty dues thrown on you from past generations or creating a stake in your future?  Up to you.
Are you stuck in a cycle of paying dues from the past or are you investing in a successful future?
For coaching, consulting or speaking Let's Connect!