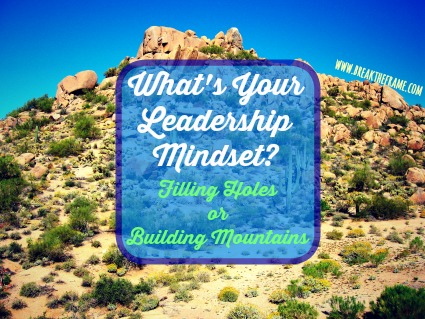 Over the past months, I've noticed a trend in the classroom, at the office and around the town: There is an assumption that people need to be filled up to reach success instead of built up to create success.  It's led me to wonder, are most people simply filling holes or building mountains?  Do they realize that their leadership mindset is at the heart of everything they do and say?
I have no doubt, we are all capable of great things.  The trick is believing that greatness is possible and putting aside saboteurs to embrace our full potential.  Still, I see daily what happens when someone believes in brokenness, adequacy, and practicality over championing strengths.  They focus what's missing and instead of building a bridge based on gifts, they build precarious structures that are held up on the shoulders of people that lean into their mediocrity and sense of inadequacy.
Have You Seen These People Filling Holes?  
All they see are the holes that need to be plugged and are exhausting themselves patching and filling day in, day out.  Their leadership mindset is focused on gaps and not greatness. 
The Teacher 
Starts with an assumption that his kids are lacking in ability and no matter how much a child excels, through the lens of "less than," they'll always be average at best, and incapable at worst.
The Parent
Always telling people, "my child will never be a great reader and that's OK with me." That's more about them than their child, isn't it?  Where is the room to learn and grow?
The Manager
Constantly lamenting that they're the only one that knows how to do the job right.  Moaning that it will take more effort to teach someone than to just do it themselves.
The Leader
They are the only one speaking at meetings, demand final sign off on every important document and initiative, and is working 24/7 to make up for all of the "idiots" on the team.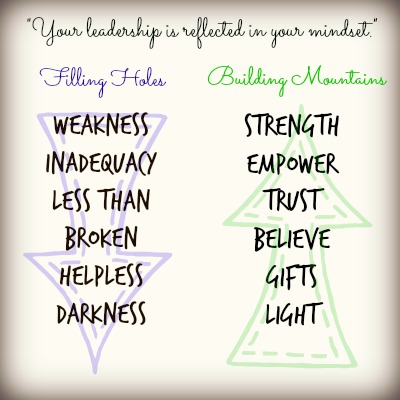 Have You Seen These People Building Mountains?  
They see people who are capable, caring and committed and don't linger on the depth of what's missing.  Their leadership mindset is focused on strengths and on building mountains where people can see further and go farther.  
The Teacher
She looks through the darkness and notices the light bulbs that go on and helps them to shine even more brightly.  Helping students make the leap from strength to new strength, she not only see someone who is capable, she also helps her students own their gifts.
The Parent
Always saying, "You can do it! I believe in you!" even when their child does not believe in themselves. The best part is they are not empty words, but truly and deeply felt, fully knowing their child has what it takes to persevere, practice, learn and create success.
The Manager
Their office is usually empty because they are out on the floor with the team.  They regularly coach and mentor team members knowing that their shared success will be a part of their legacy.
The Leader
"That's a great idea," they say.  "Now go run with it."  Trusting, empowering and present are the hallmarks of their leadership style.  They know that the more people who are passionately committed and engaged in building the mountain, the higher will go.
BREAK THE FRAME ACTION:
Ask Yourself:
What if the starting assumption was we are all naturally creative, resourceful and whole?
Why do we focus on weakness and so often ignore strength?
What is your default?  Holes or mountains?
What's your leadership mindset?  What will you do today to help build a mountain? 
For coaching, consulting or speaking Let's Connect!