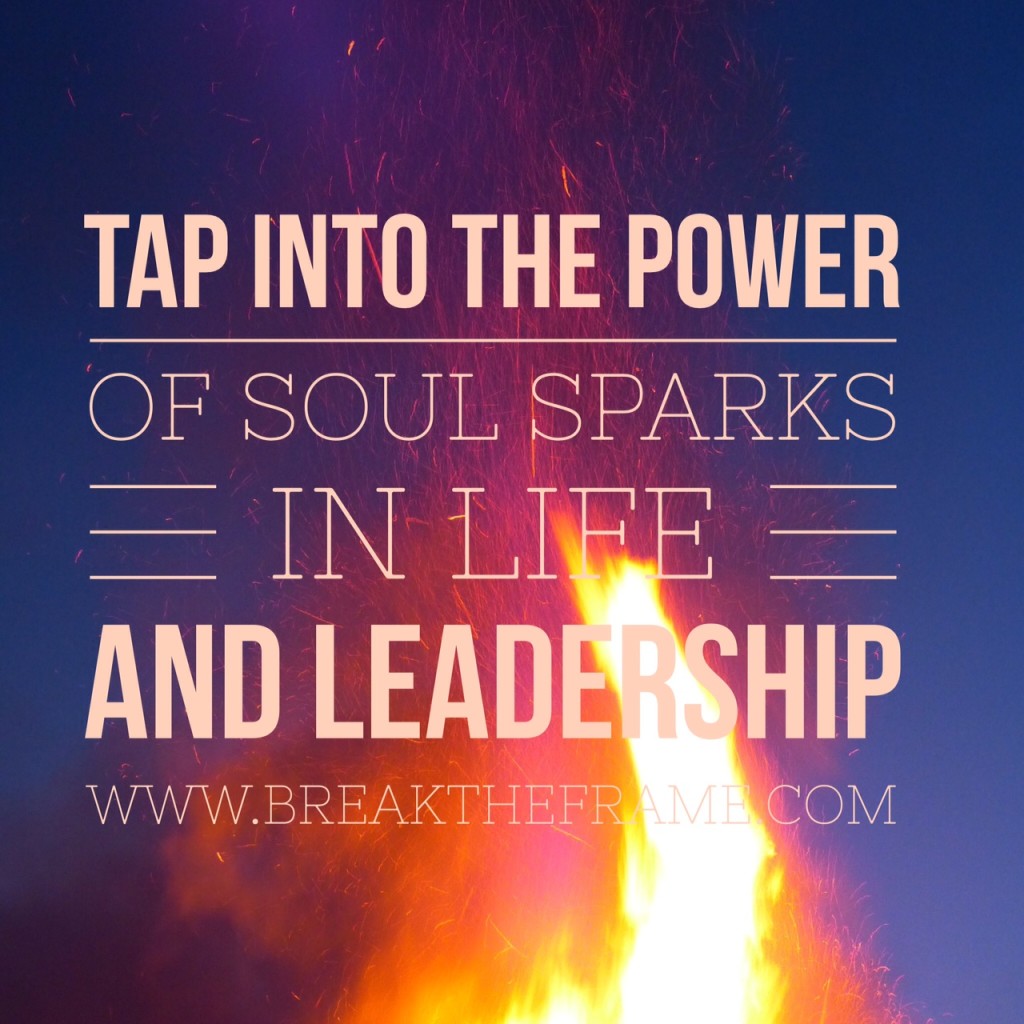 I've always been an actress, but post college, I haven't always had the confidence to audition. I'd take class after class; on camera class, monologues, scene study, you name it. I'd tell myself that I needed another class and I'd be ready to put myself out there more. However, the moment I found my courage, it became an unstoppable force that led to a soul spark I'll never forget. 
Jon Mertz of Thin Difference writes about Soul Sparks in his new book, Activate Leadership: Aspen Truths to Empower Millennial Leaders. Jon defines a Soul Spark as:
"Soul sparks are those small ignitions of inspiration that fan into big changes, new directions, or fresh works. They come from deep down inside. Make your body and mind shake with excitement. These are soul sparks." 
As a coach, I often help other tap into their soul sparks, yet Jon challenged me to share one of my own soul sparks.  This is the story of when my quiet side hobby of acting, married my career in change management and adult learning.  The experience was beyond exciting and has stayed with me for many years.
My team was engaged to create a real-time business simulation as the capstone training for new pharmaceutical sales reps. We were hot and heavy into the design and a few of us needed to travel to attend a critical meeting in Chicago.  My manager asked me to go…
Earlier that week I went to an audition for Craig Lucas' Blue Window with a professional theater company in Philadelphia.  The day she asked me to attend the meeting, I found out I had been called back for one of the roles. 
I quickly calculated two options:
1) Miss the call back and feel like I'd never be able to have a full life and professional success – that it had to be either/or.
2) Tell my manager about the call back and ask to miss the meeting.
I chose to be vulnerable and tell her about my audition.  Heart beating out of my chest, I started the conversation and within a minute, without hesitation, she told me that I needed to be at the audition.  The meeting would be covered.  No debate, no digs, only 100% support. 
My manager flamed the soul spark within me. She listened, trusted, and understood that this audition was connected to my heart and soul. The best leaders never stomp on someone's heart and expect them to breathe life into the work; it's an impossibility. 
I won't keep you in suspense. I went to the call back and did not get cast.  However, I went to another audition and did.  My soul was on fire and like any spark, it created a flame that spread. I had more energy and showed up with more passion at work because I was honoring my life, not only my professional climb to the top. 
I was at rehearsal one night and a light went on deep within me.  What if we cast actors in our live business simulation?  It was an off the wall, totally out-there idea that I was sure could work, but it would be a huge risk for me to bring it forward.  What if I'm wrong?  What if I look like an ass?
I asked myself a series of these what-ifs until I asked the questions that really mattered:
What if this idea freakin' rocks?  What if it could completely change the game? What if I don't say anything… isn't that really a bigger risk?
I can still picture sitting down with my manager to pitch the idea.  I can see her face, her eyes closed as she deeply listened, remembering the outcome… let's pitch it to the client. 
Let's cut the story off here.  Nearly six months later, our team pulled off the largest theatre based business simulation training in history.  I led the theatrical components, while my colleagues focused on other critical aspects of the learning design. It was incredible – what I like to call the magic mix.  Together we accomplished something that literally never had been attempted before. 
I was energized and pinched myself daily.  I was working closely with talented and accomplished professional actors and directors; a dream come true.  I was stretching my creative thinking and pushing my leadership skills to the limit. It all happened because I looked to my heart, my love of acting, and followed the spark.
Here's What I Learned about the Power of Soul Sparks
Soul sparks happen when you're willing to fully show up as you.

Vulnerability and courage enable you to not only take risks, but remain deeply connected and accountable to your choices.

Soul sparks are like a wave that carry you forward, in flow.  However, like a surfer, you will find many waves to ride and celebrate over your lifetime, not only one.

Your creativity is unleashed when you take the pressure off the big moments and look for inspiration everywhere. 

When you follow your soul spark there will be times when you are having so much fun you can't help but secretly smile, thinking, "I'm getting paid for this!"

Ultimately, knowing the feeling of a soul spark helps you to find the start of your next.
What if I decided I needed more classes? More time?  What if I was too afraid to audition out in the "real world"?  
I never would have imagined that going to one audition would change my path and the paths of so many others in the process.  It was one night of bravery that led to one of the most meaningful professional experiences in my entire adult life. 
Go pursue your soul spark without fear.  Every road leads somewhere.  See where yours takes you to lead on with purpose, vulnerability and go find your truth.
I wrote this post as a part of a community initiative to celebrate the Activate Leadership book launch and the power of soul sparks.  Have you had a soul spark?  What's your story?