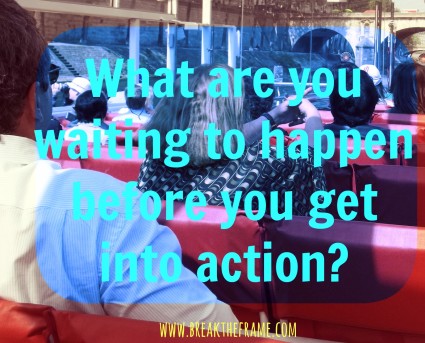 I'm writing this from the waiting room of the tire store.  Four new perfect wheels about to replace tires that were so worn out, if I waited another month to change them, I'd be in real trouble.  Waiting in the waiting room, waiting to change, always waiting.
Waiting feels like what we're supposed to do.  Heck, we learn to do it well from a young age.  My son called from his bedroom last night and he needed me "right away."  Did I pop up and run to his room?  No, I didn't.  He was met with "Honey, I'll be there in a few minutes.  Just wait."  Wait for what you need.  No applause for speaking up for his needs, asking for what's missing, so he can reach his goals (in this case, a good night's sleep.)  His needs interrupted mine and it was his turn to wait.
Most of us have developed world champion waiting skills over the course of our lives.  I often hear from clients:
I'm waiting for the number on the scale to go down. (to be happy)
I'm waiting for my business to pick up. (to feel like a success)
I'm waiting until the time is right. (to do what I can't wait to do)
I'm waiting until I have the money to take my dream to the next level. (to live an inspired life)
Unfortunately, I do not have a magic wand to wave at you and zap you to your ideal moment.  You and I both have to go through the living required to get from HERE to THERE.  Notice, I did not write the waiting required… it's the living, the leading, and the creating that will make the magic happen.
What if waiting was no longer a passive activity of sitting on your butt hoping that things will happen the way you want them to happen?  What if waiting is actually an opportunity for action?
I'm tired of waiting because without a doubt, when I make it to the next stop, the train I'm on is going to keep going.  There is always somewhere new to go, something more to reach for and definitely more joy to embrace.  Come on!  Would you rather be in the driver's seat or staring out the window as monotonous scenery flashes by in a blur?
Turn on your hustle!
Tap into these three must-dos transform your wait into inspiration.  Just don't try them all at once. 
ONE:  Don't zone out, tune in! 
Turns out you have two hours in line at the DMV?  Hanging in the doctors waiting room?  Bring your laptop and write a blog post, respond to email or return that phone call you've been putting off.
Better yet, if you're there with someone else, tune into them!  Be fully present as you talk to your child about their day, play a learning game or crack some jokes.  Don't waste it.
In this new perspective, waiting time is never wasted time and it could be some of your most productive hours of the day because you're planted in one place.
TWO: Take a deep breath and ease into the wait. 
If you're like me, you're on-the-go 24/7, why turn up your nose at a moment of stillness?  Take a beat and be amazed at what's in front of you, be a people watcher.  Some of the best leadership lessons come to life in our everyday experiences.  I watched a father teach his son how to climb a fence and was struck by how leaders create the space to grow.  If I was busy texting, I would have missed this special moment.
Ideas spark left and right when you stop long enough for them to catch up with you. Also, don't forget, deep breaths and appreciating "what is" doesn't have to stop you from occasionally opening Evernote to capture all of your creative thinking.
THREE: Remember why you buy a lottery ticket. 
Yeah, maybe you buy to win but I buy to dream.  The 24 to 48 hour wait between the time the ticket hits my hot little hand and they announce the winning numbers, I'm planning and playing.  Where will we go on vacation?  Who will we call and tell first?  How much will we give away right away?  What if we started a foundation?  What would it do?  It is so much fun to imagine that I almost always feel like I've gotten my dollars worth from my purchase.  I'm ready to GO and I can literally feel the possibility zooming around and filling the air.
Now imagine dreaming that big now.  Who says you have to win the lottery to start the foundation or take a vacation?  Tap into the energy of the lottery ticket and write your own ticket.
What are you waiting for in your life and what step can you take today to transform your wait into a time to create?
For coaching, consulting or speaking Let's Connect!