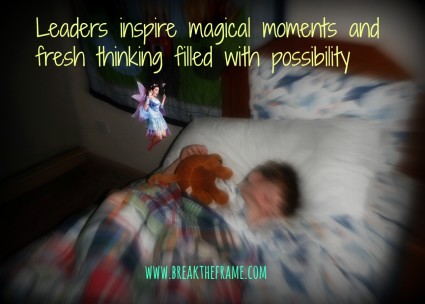 My daughter lost another tooth this weekend.  As soon as it fell out, she began to inquire about the Tooth Fairy and wondered aloud if she'd make an appearance.
Just like in December, when she spoke about Santa, she shared one simple sentence that told me how she sees the world and experiences its magic:
"Some of my friends think that their Moms and Dads leave money and coloring pictures for them, but I know it's the Tooth Fairy."
Her world is still magical: The Tooth Fairy brings money, Santa saves Mom and Dad a bundle since we don't have to spend our money for special gifts, and when she's scared at night we, her parents, can make bad things disappear in the blink of an eye.
Any possibility that the tooth fairy and Santa are elaborate shows and that her parents aren't actually killing huge bugs or chasing off intruders are not a possibilities she's willing to linger on.  Our daughter believes in the magic and it's ever-present in her life.  Of course, plenty of kids have told her their view of the truth, that none of these things are real, but she doesn't care and in fact, feels sad that they're missing out on the magic.
As her parents, we fostered her ability to embrace magical possibilities and have the confidence to believe despite the naysayers.
As leaders, how can we invite more possibility in into our work and create a culture of possibility for the team?  
Judge Less, Explore More
How often do we hear a new idea and immediately the 92,000 reasons why it could never work come to mind?  We dismiss it before we even truly explore it.  Yes, the idea may not be viable, but it could be a like a big blinking sign pointing us somewhere completely new and exciting.  Leaders stop and look around, build, imagine and create possibilities where previously there were none.
Stop Worrying 
Most of us don't worry that we may mess up, we worry that others will see us flailing, drowning and falling or even worse, they'll talk about it with everyone and their grandmother.  When we channel all of our energy into worry two things happen 1) We use up our energy worrying about what might go wrong 2) We never
fully commit
and stretch ourselves, but instead, it's like we're walking around with one foot always firmly planted in today and the other can never reach far enough into tomorrow to find success.
Encourage Whimsy
I don't mean that you should let everyone have pet projects that they get to work on 24/7 but sometimes whimsy gives birth to something truly fresh.  Cultures that empower people to follow their whimsy attract playful, creative,
innovative
thinkers that don't want to fit in but are ready to stand out.
Be Excited
Nothing sets the tone for a magical experience than a culture, and leaders, filled with excitement about what's possible.  Moreover, when people are excited about the mission, vision and understand why their contribution matters, they are motivated to do and give their best.  Give your team the gift of shared passion and belief that together, you can accomplish anything.  Now, imagine what's possible, and envision the magic of a team that is focused, engaged and working towards shared goals.  Wow.
Leaders that tap into the hopes, dreams and strengths of the team create a magical culture that hums with possibility. ~ Alli Polin (Click to Tweet)
Yes, there is no tooth fairy flying through the house gently landing on her pillow but the tooth fairy does exist; it's all the Moms and Dads that print pictures and write letters late at night with love and care.  Like great leaders, these parents pass on to their children a magical moment that in turn brings the magic right back into their own lives.  I know, because I'm the Tooth Fairy.  Are you?
How have you created a culture of possibility in your life and work?
Are you ready to make the leap?  For speaking, coaching or consulting, Let's Connect!