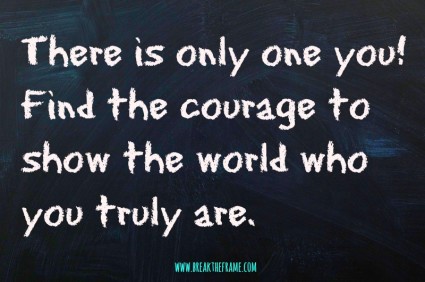 I'm currently in the middle of alumni interviews for my university and am talking to applicants from around the word.  At the start of our interview I let them know I'm not looking at their credentials, I really just want to get to know who they are, what they love, and what they most want from their college experience.  "I'll assume you have great grades and tons of activities," I say, "but I want to know what makes you, YOU so I can help bring your application to life."
Then, one of two things happens:
1) They take a deep breath and get authentically engaged in our conversation.
2) They present their resume, in perfect practiced form.  No matter what questions I ask them, they squeeze it all in.
Want to guess which ones have made the strongest impression on me?  
Too many people seem to have a game face and think that if everyone is playing the game, they have no other choice.  I don't know about you but I'm tired of playing "the game."  It's exhausting showing people who I think they want to see instead of who I am.  Honestly?  I made the conscious choice to give it up years ago.
What age do we learn that we need to "play the game?"  You know, the one where we lock away all of our ugly, messy, human bits, buried deep in a drawer, under a pile of t-shirts.
Don't get me wrong, it's absolutely OK to put your best foot forward!  Why not let your best-self shine?  Still, each step forward requires two feet – you've got to go all in unless you want to go through life hopping on one foot.
I'm not advocating using a first meeting to air all of your shortcomings, fears and doubts.  I am suggesting that you don't just tell people the answers you think they want to hear.  Leadership starts with the heart and courage to be you.
Are You in There?  Authenticity, meet Reality.
Job Interview
You say: "I love working in excel all day!  Bring on the spreadsheets!"
You think: "Please tell me there's more to this job than spreadsheets!"
What about: "I have strong excel skills. I'm also really interested in learning more about the job and the team."
College Interview
You say: "I want my college experience to be all about challenging myself academically."
You think: "I can't wait to join the Ultimate Frisbee team!  Do they have one?"
What about: "I'm looking forward to taking a wide variety of courses but definitely want to get involved in the campus culture too.  For example, I love Ultimate!"
Networking Event
You say: "Color copying.  How interesting!"
You think: "Please someone come and join our conversation. I've heard enough about toner."
What about:  "It was great to meet you.  Enjoy the event."
First Date
You say: "I love to have quiet nights at home too.  Love them.  Live for them."
You think: "If this date ends soon, can I still meet my friends at the bar to tell them about this loser?"
What about: "A quiet night sounds good.  I admit, I don't have them that often."
You are more interesting when you are real, vulnerable, honest, silly, quirky, YOU than a carefully crafted portrait.  
Break the Frame Challenge:
Show people who you are, what you believe, enjoy, and think – it all matters.  There is only one you – why pretend you're someone else?
What about you?  When was the last time you spent some time looking within, getting to know yourself, your values, dreams, fears, beliefs, what you most want and what matters most?  There's no time to start better than today…
For coaching, consulting or speaking Let's Connect!