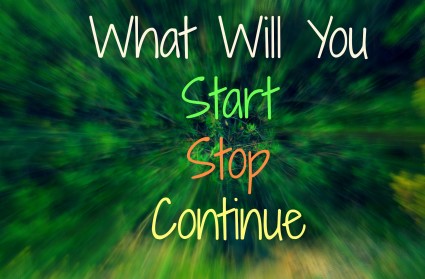 I was recently working with a client that was really frustrated that he'd been stuck at the Director level for what he considers "far too long" and had a big goal to eventually sit in the C-suite.  When we talked about what's going on and what was most holding him back, I heard a lot of:
–       I can't because…
–       They think…
–       Everyone else…
WHOA. 
It was time for me to stop coaching the saboteur, the tiniest version of my client, that sits on his shoulder, whispering in his ear all of the reasons why he'll never, ever achieve his dream.  (Sound familiar?)  I needed to start coaching the successful, smart client that hired me; he needed to get on the phone and in the game ASAP.
Together, we focused on what he needed to do to make the leap from his current position to living his dream.  We crafted a set of Start-Stop-Continues that would be a meta-reminder of both his values and goals.   His Stop-Start-Continue enabled him to not only be happy where he was, but also focus on his self-development, let go of his "whoa is me" attitude and engage his fire and passion.
Through my work with leaders at all levels and experiences from the boardroom to the PTA board, here are some of the Start-Stop-Continues that other's have adopted and have led to inspired action.  Do any of them ring true for you? 
Stop-Start-Continue to Break the Frame and Lead with Passion and Purpose
Stop

talking about what isn't and start focusing on what is

Our language matters!  When we are constantly focusing on and talking about the gaps, we miss all of the bridges that are ready for us to cross.
Start

making things go right instead of fixing what's wrong

This is truly a mindset that takes you from fixer to leader; it's all about your attitude and perspective.
Continue

to focus on your way of being and not only your way of doing

Any behavior, hard or soft, can be done with love and respect for the other person.  When you correct, coach or make suggestions it feels 100% different when you hold the other person as another human being, equal to you and not inferior.
Stop

worrying about the time and title

We close ourselves off to being great in the present moment when we buy into "too long at level."  Who says you're a better leader with a bigger title, can influence more, or have a greater impact?  Not me.
Start

building more relationships

Relationships are the cornerstone of everything.  If you want to be a change catalyst, an exceptional leader, or a part of a meaningful community, you can only make it happen through relationships.
Continue

to do work that lights you up and share your passion with the team

When you're bored by the work, your team will be too.  Connect with why the work matters and share the message far and wide.
Stop

worrying that it's not your turn

Leadership is not like kindergarten when everyone gets an equal number of turns as the line leader and the weather announcer.  Notice the opportunities where you are, not only where you're going.
Start

to swim in the bluest waters

Blue Ocean Strategy reminds us that we need to find the space where we're swimming alone and not stuck in the bloody red ocean with the rest of the competition.  You can innovate, create, and separate from the pack.
Continue

to stay focused on what you want your life to be, not your title to be

When our personal leadership goals are only title centric, we miss out on why we want the title in the first place. What will it create in our lives or the lives of others?  That's what matters and we can create that starting today.

My client?  He actually left his corporate position to start his own company, where he is now the CEO.

BREAK THE FRAME ACTION: Sit down with a piece of paper and brainstorm your personal leadership start-stop-continue.  Tap into the list above.  Share it with a trusted advisor so they can be your accountability partner as you move towards your goals.

What is the top thing you need to start, stop or continue doing that's holding you back from making the leap from where you are today towards your dream?

For speaking, coaching or consulting, Let's Connect!