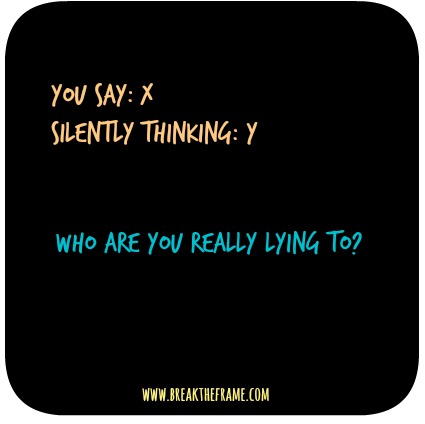 It feels easier to lie sometimes than tell the truth, doesn't it?  After all, you're being kind, sparing someone's feelings.  You don't want anyone to think you're a bad person or someone that isn't thoughtful.  The interesting thing is that when you lie, you're not being kind or thoughtful or anything else other than someone who is covering their behind.  Make today the day you answer the wake up call to break free from your lies and create a life and leadership legacy built on integrity, honesty and vulnerability.
Remember, any action, hard or soft, can be done with you seeing another person as equal to you, or someone who is less of a worthy human than you.  Somehow, if they're not human, but just another obstacle in your day, lying doesn't seem so bad.  Now, the biggest lie you're telling is that you're lying for them, not you.  Get over it.  You can learn to speak even the hardest of truths with love, respect and compassion.
Start by telling yourself the truth instead of buying into your excuses. 
 Break Free From Your Lies You Tell Yourself
You Think: I'm not enough.
You Say: I'm too inexperienced.
You Think: I'm afraid I'll fail.
You Say: I'm too experienced.
You Think: I'm afraid they won't want me.
When I first started my coach training, I told myself that everyone in the class was more skilled than me.  I better not raise my hand for any of the demos so I won't be found out.  However, in my program, hiding in the back of the room wasn't an option and I had to get over my lies quickly as I walked to the middle of the room for my first of many demos. Was I masterful?  Amazing?  Wowza?  Of course not.  Did I survive?  Make an impact?  Add value?  Yes on all counts.  My courage enabled me to shine the light on my lies and let the truth come through.
Shining a light on lies is a powerful tactic to see things in a whole new way.  If you truly want to break free from you lies, instead of believing your stories, take a beat to ask yourself:
What's underneath?
What's the worst that can happen?
What's the price of my lie?
You can write a new story when you see that the old one is just fiction.  It's within you to change the ending.
Break Free From Your Lies You Tell at Work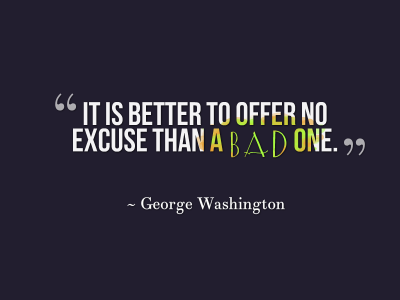 You Say: I didn't see your email.
You Think:  I saw the 32 emails you sent.  Seriously?
You Say: I really do want to help but I'm slammed.
You Think: I don't want to get roped into this one.
You Say: It was an honest mistake.
You Think: Please believe me.  You can't find out I did it on purpose.
Jane's boss apologized for not briefing her program at the senior meeting.  She told Jane that she didn't have all of the details in time, but she made a plug for her.  She promised that she would try to get her on the leadership team agenda next month to cover her program in more depth.  Not only was Jane let down, but also really hurt; she sent all of her highlights to her boss twice in the past few weeks.  Was it really possible that the emails never went through?  Jane really tried to believe all of the excuses for why she wasn't getting recognized for her great work.  Ultimately, the excuses were discovered as lies and within a year, Jane was happily working for a competitor.
Consider, who are you pushing out the door with your lies?  Ultimately, most lies are uncovered and do much more damage than starting with the truth ever could.  There is no foundation for trust, innovation or risk in a culture that is built on lies, half-truths and empty promises. Ask yourself:
What's stopping me from giving an honest "no"?
How would the truth forward the work and our relationship?
Why do I always feel like I need to cover myself?
Step into your personal leadership by showing you're real.  You can't do it all, you make mistakes, you are human.  Break with the idea you have to be super-human at work or at home.
Break Free From Your Lies You Tell to Friends and Family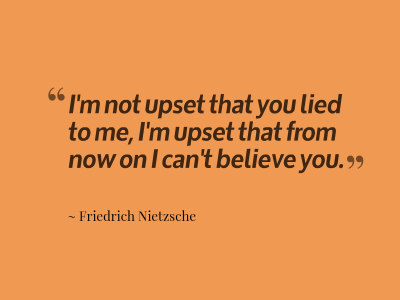 You Say: Everything's great.  Totally.  Completely.
You Think: I can't let anyone see that I'm struggling.
You Say: I'm so sorry I forgot about our call.  I was late at the office – again.
You Think: Thank goodness for caller ID!
You Say: You make it so hard to be nice.
You Think: I don't feel like being kind or compassionate right now.
When I was a teen, I used to sneak around and tell my parents I was sleeping over at my friend's house.  Most of the time, I remembered to tell my friend what I was doing so when my mother inevitably called, she'd cover my lie for me.  Yes, there were times I forgot to give her the heads up and got caught on more than one occasion in a deep, deep web of lies that I had been weaving.  Giving my mother the impression that she could trust me, and living a lie, wasn't building trust at all (I know, Mom!)
If you can't let your hair down with your friends and family, you probably don't share your truth with anyone, even yourself. Ask yourself:
What am I missing out on by building walls of lies?
Why am I holding back?
What's stopping me from owning the truth?
Friends and family love you, and don't need or want to be impressed by your perfection… Especially when it's all just a thin veneer of lies.
Embrace Your Truth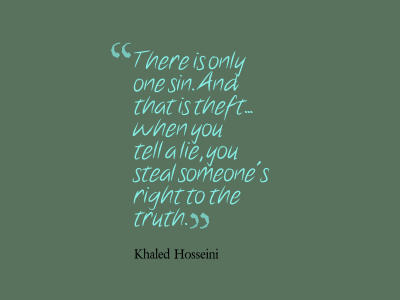 If you made a mistake, own it.
If you're afraid, accept it.
If you're unsure, question it.
If you need time, space or silence, ask for it.
Embrace your truth.  You're the only one who can.
What's your advice to help someone break free from a web of lies and own their truth with confidence?
For coaching, consulting or speaking Let's Connect!